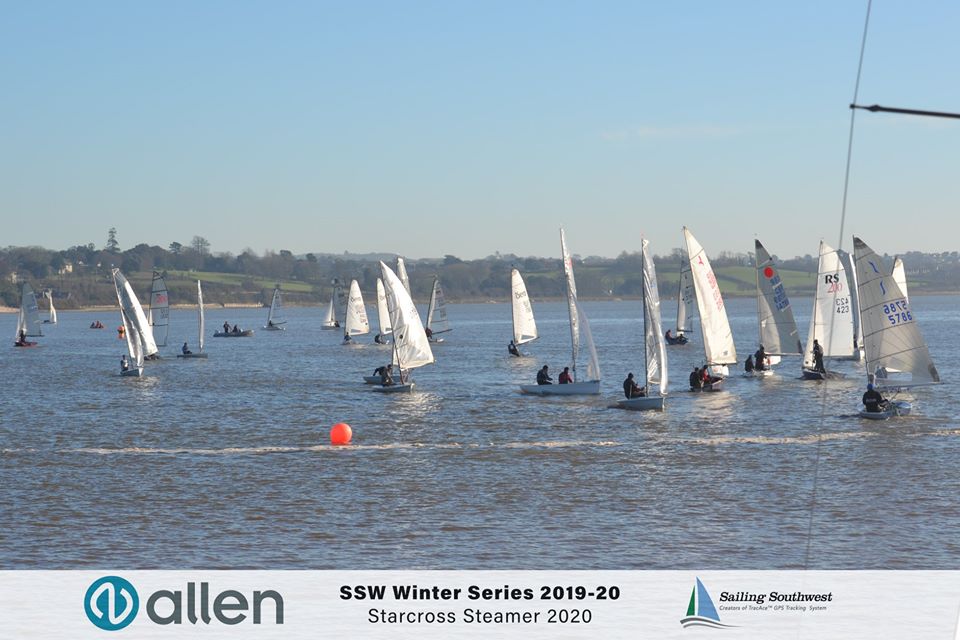 Write-Up
The Starcross Steamer - Starcross YC, Exe, UK, 19th Jan
Thanks to Greg Bartlett for his most excellent account of a sunny day out at Starcross....
Despite the light wind forecast 96 boats turned up for the Starcross Steamer on the picturesque River Exe.
6 RS Aeros turned up for the riveting action of 5 knots of breeze. The lone RS Aero 5 of William James kicked things off and had a solid first lap maintaining his position with his nearest boats such as Enterprises and Laser Radials etc. Next up was supposed to be the RS Aero 7s, but due to a late change in pursuit race start times Chris Jones and Elliot Toms in the 7 rigs were none the wiser and ended up starting with the 3 RS Aero 9s.

Nonetheless over the first short beat, 2 reach legs and 1 long run, positions were pretty close out of the first two RS Aero 9s with Greg Bartlett narrowly leading Rich Watsham and the two RS Aero 7s with Chris Jones narrowly leading Elliot Toms. The beat was the real separator, creating much more substantial gaps in the fleet. This order stayed the same for the second lap with the 9 rigs making great gains on the leading boats, until rounding the 2nd leeward mark where the wind dropped to almost nothing and the tide began to turn with the wind, uh oh! This resulted in 1 retiree 9 rig. However the five other RS Aeros were determined to finish the race or get distracted by the scenery, who knows?

This significant drop in wind and increase in tide, resulted in a lot of bunching up at the leeward mark, compressing the fleet resulting in some snakes and ladders action, this allowed a few faster boats to slip through with the four bigger RS Aero rigs eventually overhauling William James's great effort in his 5 rig. Another half an hour and half a lap later, race done!

Sure, it wasn't the most exciting of racing in sub 5 knots, but with great scenery, very friendly club volunteers and fellow competitors and fairly close racing it was worth the trip out for all!
NEXT UP - a flurry of RS Aero UK Winter Series events are coming up with Northampton and then King George this weekend, followed by Rutland's Tiger Trophy on the 1/2nd and a fun few laps of Christchurch Harbour on the 9th. Then it's the big one - the RS Aero Winter Championship at the Oxford Blue on the 15th!
Gain a chance at a half price new sail by qualifying with 3 events!
Results
RS Aeros results (96 entries, 57 finishers);
1st - RS Aero 9 2600, Greg Bartlett, Starcross YC, 23rd
2nd - RS Aero 9 3023, Richard Watsham, Starcross YC / RNSA, 25th
3rd - RS Aero 7 2550, Chris Jones, Sutton Bingham SC, 42nd
4th - RS Aero 7 1454, Elliot Toms, Fowey Gallants SC, 43rd
5th - RS Aero 5 3065, William James, Paignton SC, 46th
DNF - RS Aero 9 1752, Dan Bridger, Salcombe YC, DNF