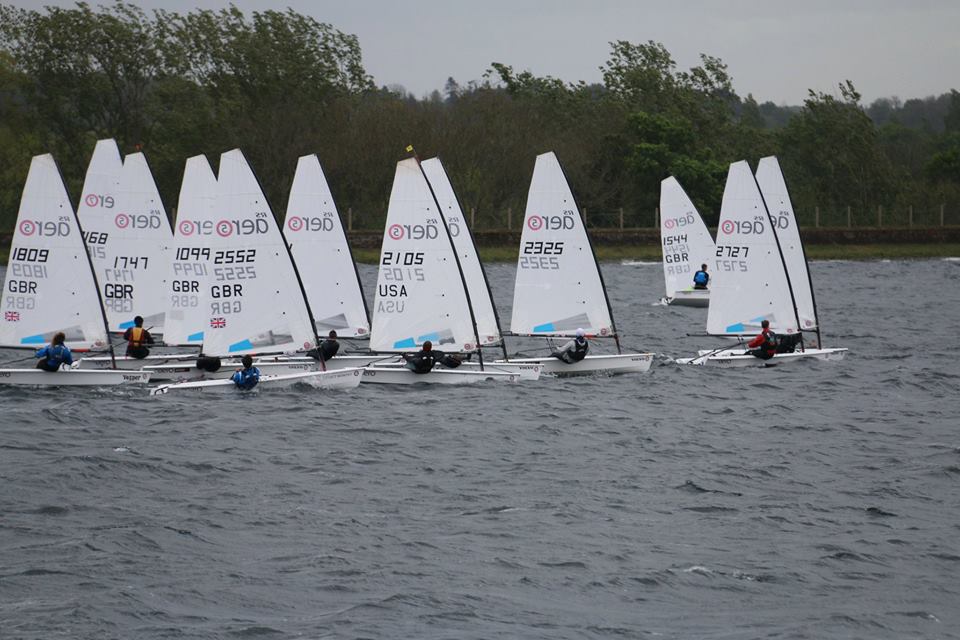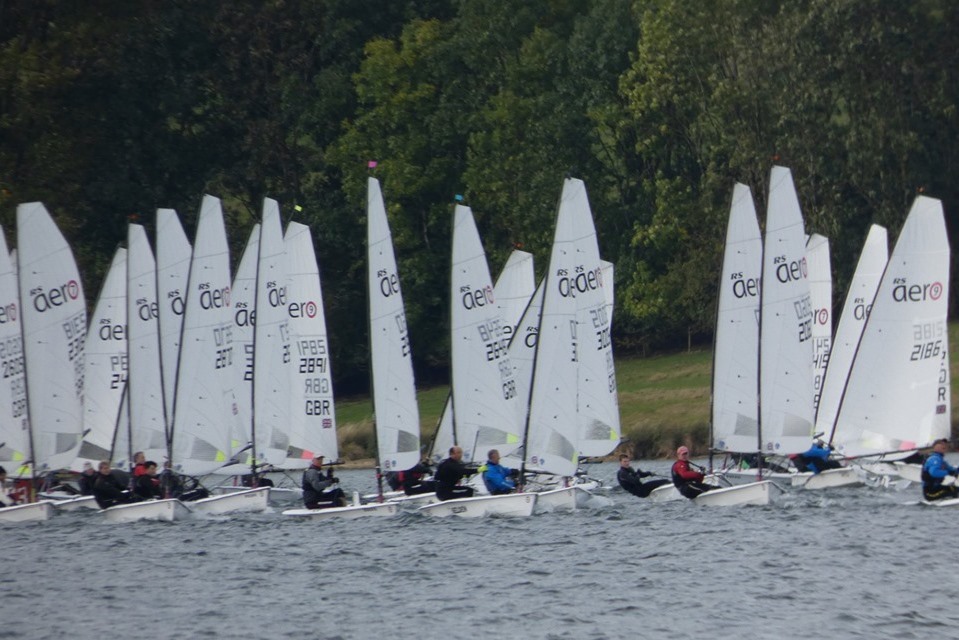 Write-Up
RS Aero UK Southern Circuit 2019 - Overall Results
Wow, what a season! The RS Aero UK Southern Circuit continued to go from strength to strength with a huge entry of 232 RS Aeros taking part in at least one event.
We started at the Spring Champs at Island Barn in April with Hurricane Hannah raging and a good fleet of RS Aero 5s and RS Aero 7s getting around in good shape. An equally testing weekend in May followed with the challenge of the Solent tides at Lymington.
The RS Aero Class' celebrated its 5th birthday at the Warsash Southern Champs in June with a new record entry for a weekend event of 71. After the summer's major Championships the Circuit re-convened at Avon SC in September for the annual River Champs with 22 RS Aeros enjoying the challenge of river racing on the 60m wide river Severn. Warsash's record was then beaten at the Rutland RS Aero Inlands in October with a whopping 79 entries! We finished up at Draycote with our largest RS Aero End of Season Champs yet with 60 RS Aeros on a chilly weekend in November.
Congratulations to the winners, those who qualified and to everyone who took part! Another excellent UK Southern Circuit is near ready to be launched for 2020, visiting some new venues and also some old favourites. Check out the near complete 2020 UK Event List
HERE
.
(Please let
me
know if you spot any mistakes!)
Results
6 events, best 3 to count
RS Aero 5
Rank
Sail
Name
Club
Cat

Island

Barn

Spring

Champs

Lymingon

Warsash

Southerns

Avon

River

Champs

Rutland

Inlands

Draycote

End of

Seasons

Total
1
3042
Jonathan Bailey
Grafham SC
Y
1
100
1
100
1
1
3
2
1819
Ben Millard
Emsworth SC
Y
100
100
2
100
5
3
10
3
2071
Sam Blaker
Benfleet YC
Y
100
100
3
100
3
4
10
4
1566
Abby Hire
Royal Lymington YC
Y L
100
100
7
100
8
11
26
5
2708
Maisie Bristow
Island Barn RSC
Y L
22
100
100
100
9
8
39
6
1888
Abigail Larr
Northampton SC
Y L
100
100
12
100
11
21
44
7
2929
Elliot Toms
Fowey Gallants SC
Y
22
100
15
100
12
14
48
8
1096
Fergus Pye
Draycote WSC
Y
100
100
100
100
4
2
106
9
2325
Ned Stattersfield
Wells-Next-The-Sea
Y
4
100
100
100
6
100
110
10
2552
SammyIsaacs-Johnsn
Maidenhead SC
8
100
100
100
100
6
114
11
1099
Ralph Nevile
Grafham SC
Y
14
1
100
100
100
100
115
12
2966
David Peaty
Hollowell SC
Y
7
100
100
100
100
9
116
13
2105
Lily Barrett
Island Barn RSC
Y L
10
100
100
100
100
7
117
14
2293
Caroline Martin
Lee on Solent SC
M L
100
100
6
100
100
13
119
15
2748
Oliver Hickling
Wembley SC
Y
100
100
100
100
10
10
120
16
2317
Theo Deverell
Hunts SC
Y
100
100
100
100
7
16
123
17
2555
Giles Baker
Datchet Water SC
Y
22
2
100
100
100
100
124
18
1809
Iona Willows
Dorchester SC
Y L
9
100
100
100
100
17
126
19
1964
Alice Lucy
Rutland SC
Y L
22
100
100
100
100
5
127
20
2214
Yana Skvortsova
Island Barn RSC
Y L
22
100
9
100
100
100
131
21
1209
David Ellis
Lymington Town SC
100
100
100
100
2
100
202
22
2113
Gareth Griffiths
Island Barn RSC
M
2
100
100
100
100
100
202
23
8
Tom Ahlheid
Frensham Pond SC
Y
100
3
100
100
100
100
203
24
18
Lynn Billowes
Warsash SC
L
3
100
100
100
100
100
203
25
2724
Melissa Meredith
Papercourt SC
L
100
100
4
100
100
100
204
26
1705
Kate Wharmby
Royal Lymington YC
Y L
100
4
100
100
100
100
204
27
2949
Jenny Bennett
Lymington Town SC
L
100
100
5
100
100
100
205
28
1296
Margaret Dunn
Lyme Regis SC
M L
100
5
100
100
100
100
205
29
1747
Andrew Cooney
Broadwater SC
M
5
100
100
100
100
100
205
30
1739
David Cherrill
Broadwater SC
6
100
100
100
100
100
206
31
1551
William Homewood
Lymington Town SC
Y
100
100
8
100
100
100
208
32
1231
Maddie Bilborough
Hayling Island SC
Y L
100
100
10
100
100
100
210
33
1402
Jane Homewood
Lymington Town SC
L
100
100
11
100
100
100
211
34
2724
Josie Meredith
Papercourt SC
Y L
11
100
100
100
100
100
211
35
2356
David Calder
Burghfield SC
Y
100
100
100
100
100
12
212
36
11
Maxi Tustain
Island Barn RSC
Y
12
100
100
100
100
100
212
37
1773
Rosemary Dillworth
Bowmoor SC
L
100
100
100
100
13
100
213
38
2462
Sasha Tydeman
Lymington Town SC
Y L
100
100
13
100
100
100
213
39
1685
Lucy Greenwood
OxfordSC / OxfordUni
L
13
100
100
100
100
100
213
40
1135
James Smaggasgale
Hillingdon OAC
Y
100
100
100
100
14
100
214
41
1215
Cameron Sword
Papercourt SC
Y
100
100
14
100
100
100
214
42
1301
Emily Davis
Great Moor SC
L
100
100
100
100
100
15
215
43
1175
Natasha Sion
Lymington Town SC
Y L
100
100
16
100
100
100
216
44
1568
Caitlin Atkin
RYA
Y L
100
100
100
100
100
18
218
45
1597
Felix Goodman
Whitstable YC
Y
100
100
100
100
100
19
219
46
1308
Ellen Campbell
Draycote WSC
L
100
100
100
100
100
20
220
47
2113
Chris Smith
Island Barn RSC
22
100
100
100
100
100
222
48
2551
Julie Willis
Lymington Town SC
M L
22
100
100
100
100
100
222
RS Aero 7
Rank
Sail
Name
Club
Cat

Island

Barn

Spring

Champs

Lymingon

Warsash

Southerns

Avon

River

Champs

Rutland

Inlands

Draycote

End of

Seasons

Total
1
2439
Tim Hire
RoyalLymYC/LymTSC
Y
1
100
2
100
8
2
5
2
2875
Noah Rees
Torpoint Mosquito SC
100
1
3
100
18
3
7
3
2553
Mark Riddington
Emsworth Slipper SC
100
100
7
100
3
5
15
4
2550
Chris Jones
Sutton Bingham SC
M
7
4
9
100
11
8
19
5
2603
Ellie Craig
Draycote WSC
L
100
100
100
1
13
12
26
6
2738
Andrew Daniels
Hayling Island SC
8
2
17
100
35
100
27
7
3005
Nigel Rolfe
Burghfield SC
M
28
100
13
100
10
7
30
8
2318
Karl Thorne
Lymington Town SC
28
5
19
100
20
18
43
9
2890
Andrew Rawson
Weston SC
100
100
11
100
23
10
44
10
2502
Peter Chaplin
Burghfield SC
M
28
100
21
100
22
20
63
11
2168
Tomaso Macchi
Weston SC
28
13
31
100
100
100
72
12
2813
Peter Barton
Lymington Town SC
2
100
100
100
1
100
103
13
2441
Jeff Davison
Island Barn RSC
M
4
100
100
100
5
100
109
14
1590
Chris Hatton
Bowmoor SC
Y
100
100
100
100
9
1
110
15
1209
David Ellis
Lymington Town SC
100
100
8
100
100
4
112
16
2543
Steve Norbury
Warsash SC
100
100
4
100
12
100
116
17
2520
Mark Smith
Eastbourne SSC
100
100
40
100
54
26
120
18
2922
Andrew Wishart
Broadwater SC
100
100
18
100
7
100
125
19
3003
Ben Rolfe
Burghfield SC
28
100
5
100
100
100
133
20
2919
Sarah Gosling
Keyhaven YC
L
100
12
24
100
100
100
136
21
2415
Jack Miller
Felpham SC
Y
100
100
10
100
28
100
138
22
3043
Philip Bailey
Grafham Water SC
100
100
100
100
24
14
138
23
1793
Geoff Havers
Lymington Town SC
100
7
38
100
100
100
145
24
2114
Fernando Gamboa
Lee on Solent SC
100
100
33
100
100
15
148
25
3002
Jane Peckham
Gurnard SC
L
100
23
25
100
100
100
148
26
3032
Thomas Penty
Beaver SC
100
100
100
100
37
13
150
27
2148
Gareth Griffiths
Island Barn RSC
M
28
100
22
100
100
100
150
28
2195
David Blaker
Thorpe Bay YC
100
100
100
100
42
17
159
29
2581
Peter Craggs
York RI SC
100
20
100
100
39
100
159
30
2717
Chris Harrup
Burghfield SC
28
100
100
100
34
100
162
31
1637
Lorrian Wells
Highcliffe SC
L
100
18
46
100
100
100
164
32
2571
Sarah Desjonqueres
Highcliffe SC
L
100
19
47
100
100
100
166
33
1490
Graham Platt
Highcliffe SC
28
100
39
100
100
100
167
34
1336
Joe Gallivan
Lymington Town SC
28
100
41
100
100
100
169
35
2808
Steve Roberts
Torpoint Mosquito SC
100
100
37
100
32
100
169
36
2285
Roger Cowan
Burghfield SC
100
100
100
100
49
22
171
37
3031
Paul Hemingway
Carsington SC
M
100
100
100
100
50
25
175
38
27
Alex Horlock
Warsash SC
100
100
1
100
100
100
201
39
2532
Harry Joyce
Bowmoor SC
M
100
100
100
100
2
100
202
40
1134
Jacob Miller
Avon SC
100
100
100
2
100
100
202
41
1751
Fi Lucas
Avon SC
L
100
100
100
3
100
100
203
42
2552
SammyIsaacs-Johnsn
Maidenhead SC
100
3
100
100
100
100
203
43
2955
Liam Willis
Lymington Town SC
3
100
100
100
100
100
203
44
1415
Keith Escritt
Yorkshire Dales SC
M
100
100
100
100
4
100
204
45
Lucy Haydon
Bowmoor SC
Y L
100
100
100
4
100
100
204
46
Mike Adams
Avon SC
100
100
100
5
100
100
205
47
2188
Mark Addison
Upper Thames SC
5
100
100
100
100
100
205
48
2541
Nev Herbert
Lymington Town SC
100
100
100
100
100
6
206
49
3052
Marshall King
Queen Mary SC
100
100
100
100
6
100
206
50
1464
Marcia Lynall
Avon SC
L
100
100
100
6
100
100
206
51
1232
Tim Norris
Warsash SC
100
100
6
100
100
100
206
52
1927
Jack Hardie
Frensham Pond SC
100
6
100
100
100
100
206
53
2808
Griff Tanner
Tamesis
6
100
100
100
100
100
206
54
2192
Chris Holt
Chelmarsh SC
100
100
100
7
100
100
207
55
1773
Rosemary Dillworth
Bowmoor SC
L
100
100
100
8
100
100
208
56
2725
Henry Chandler
Emsworth SC
Y
100
8
100
100
100
100
208
57
2672
Will Gifford
Whitefriars SC
100
100
100
100
100
9
209
58
2929
Elliot Toms
Fowey Gallants SC
Y
100
100
100
9
100
100
209
59
2647
Lee Timothy
Lymington Town SC
100
9
100
100
100
100
209
60
1544
James Witts
Queen Mary SC
9
100
100
100
100
100
209
61
2949
Jenny Bennett
Lymington Town SC
L
100
10
100
100
100
100
210
62
2806
Andy Harris
Tamesis
10
100
100
100
100
100
210
63
2001
Simon Geyman
Datchet Water SC
100
100
100
100
100
11
211
64
2503
Dan Bird
Lymington Town SC
100
11
100
100
100
100
211
65
2784
Richard Barker
Island Barn RSC
11
100
100
100
100
100
211
66
2836
James Rusden
Highcliffe SC
100
100
12
100
100
100
212
67
3050
Sean Craig
Royal St George YC
M
100
100
100
100
14
100
214
68
2811
Andy Le Grice
Warsash SC
100
100
14
100
100
100
214
69
2551
Julie Willis
Lymington Town SC
M L
100
14
100
100
100
100
214
70
2672
Will Gifford
Whitefriars SC
100
100
100
100
15
100
215
71
2053
Clive Goodwin
Burghfield SC
100
100
15
100
100
100
215
72
1551
William Homewood
Lymington Town SC
Y
100
15
100
100
100
100
215
73
1108
Charlie Pearce
Dabchicks
100
100
100
100
100
16
216
74
2527
Robbie Lawson
East Lothian YC
100
100
100
100
16
100
216
75
2058
Duncan De Boltz
Thorpe Bay YC
100
100
16
100
100
100
216
76
1231
Madelaine Bilbrough
Hayling Island SC
Y L
100
16
100
100
100
100
216
77
2060
Luke McGill
Sunderland YC
100
100
100
100
17
100
217
78
1402
Jane Homewood
Lymington Town SC
L
100
17
100
100
100
100
217
79
1135
James Smaggasgale
Hillingdon (HOAC)
Y
100
100
100
100
100
19
219
80
2648
Ben Powell
Orwell YC
M
100
100
100
100
19
100
219
81
2572
Andy Hill
Warsash SC
100
100
20
100
100
100
220
82
2004
Richard Adams
Combs SC
100
100
100
100
100
21
221
83
2649
Kent Martin
Ogston SC
100
100
100
100
21
100
221
84
1776
Dan Fox
Lymington Town SC
100
21
100
100
100
100
221
85
2225
Johnny McKeown
Lancing SC
M
100
22
100
100
100
100
222
86
3016
Jeremy Warren
Thornbury SC
M
100
100
100
100
100
23
223
87
2222
Malcolm Jaques
Warsash SC
100
100
23
100
100
100
223
88
2153
Francis Stileman
Whitstable YC
M
100
23
100
100
100
100
223
89
1742
Edward Tuite-Dalton
Draycote WSC
M
100
100
100
100
100
24
224
90
1739
David Cherrill
Broadwater SC
M
100
100
100
100
25
100
225
91
1062
Dan Phillips
Ripon SC
100
100
100
100
26
100
226
92
2392
Simon Riddle
Stokes Bay SC
100
100
26
100
100
100
226
93
1926
Sarah Tuite-Dalton
Draycote WSC
L M
100
100
100
100
100
27
227
94
1584
Richard Woods
Torpoint Mosquito SC
M
100
100
100
100
27
100
227
95
2464
Tim Hazel
Warsash SC
100
100
27
100
100
100
227
96
3018
Robin Caiger
Bough Beech SC
100
100
100
100
100
28
228
97
2878
Peter Knowlden
Warsash SC
100
100
28
100
100
100
228
98
2142
Tom Russell
Island Barn RSC
28
100
100
100
100
100
228
99
2223
Mark Fox
Lee on Solent SC
M
28
100
100
100
100
100
228
100
2785
John Kewley
Island Barn RSC
28
100
100
100
100
100
228
101
2786
Andy Norman
Island Barn RSc
28
100
100
100
100
100
228
102
2616
Andy Godwin
Island Barn RSC
28
100
100
100
100
100
228
103
2807
Alex Reeve
Burghfield SC
28
100
100
100
100
100
228
104
2932
Pete Blakey
Draycote WSC
M
100
100
100
100
100
29
229
105
2543
Edward Norbury
Warsash SC
100
100
100
100
29
100
229
106
1038
Nick Thorne
Warsash SC
100
100
29
100
100
100
229
107
2731
Andrew Green
Draycote WSC
100
100
100
100
100
30
230
108
2146
Nick Craven
Scammonden SC
100
100
100
100
30
100
230
109
2204
Alan Markham
Upper Thames SC
M
100
100
30
100
100
100
230
110
2225
John McKeown
Lancing SC
M
100
100
100
100
100
31
231
111
2870
Cathy Partington
Leigh and Lowton SC
L
100
100
100
100
31
100
231
112
2420
Nigel Davis
Draycote WSC
M
100
100
100
100
100
32
232
113
61
Lily Barrett
Island Barn RSC
L Y
100
100
32
100
100
100
232
114
1792
Rob Robinson
Lancing SC
100
100
100
100
100
33
233
115
1345
Tom Croome
Alton Water
Y
100
100
100
100
33
100
233
116
2428
NevilleHigh-Stephsn
Draycote WSC
100
100
100
100
100
34
234
117
2320
Andy Buchanan
Warsash SC
100
100
34
100
100
100
234
118
62
Iona Willows
Dorchester SC
L
100
100
35
100
100
100
235
119
2518
Nick Ireland
Stokes Bay SC
M
100
100
36
100
100
100
236
120
1261
Martin Roots
Tata Steel SC
100
100
100
100
36
100
236
121
2605
Mark Fowler
Hunts SC
M
100
100
100
100
38
100
238
122
1653
Richard Butler
Covenham SC / Rutland SC
M
100
100
100
100
40
100
240
123
2147
Bill Knights
Hunts SC
100
100
100
100
41
100
241
124
9
Lynn Billowes
RS Sailing
L
100
100
42
100
100
100
242
125
3051
Philip Kilburn
Notts County SC
M
100
100
100
100
43
100
243
126
1120
Jae Jones
Spinnaker SC
100
100
43
100
100
100
243
127
2952
Catherine Hemsley
Felpham SC
L M
100
100
100
100
44
100
244
128
1295
Jonathan Field
Emsworth SC
100
100
44
100
100
100
244
129
1400
Gary Fowler
Hunts SC
M
100
100
100
100
45
100
245
130
2515
Jonathan Williams
Spinnaker SC
100
100
45
100
100
100
245
131
2319
Ben Eeles
Brightlingsea SC
100
100
100
100
46
100
246
132
3053
Andy Baker
Hollowell SC
M
100
100
100
100
47
100
247
133
2125
Julie Archer
Ullswater YC
L M
100
100
100
100
48
100
248
134
3011
Lawrence Hayward
Staunton Harold SC
M
100
100
100
100
51
100
251
135
2362
Claire Geoghegan
Brightlingsea SC
L
100
100
100
100
52
100
252
136
3027
Andy McKee
Rutland SC
100
100
100
100
53
100
253
137
3025
Michael Airey
Rutland SC
M
100
100
100
100
55
100
255
138
1365
Steven Angell
Draycote WSC
100
100
100
100
56
100
256
139
2628
David Wiggins
Rutland SC
M
100
100
100
100
57
100
257
RS Aero 9
Rank
Sail
Name
Club
Cat

Island

Barn

Spring

Champs

Lymingon

Warsash

Southerns

Avon

River

Champs

Rutland

Inlands

Draycote

End of

Seasons

Total
1
2813
Peter Barton
Lymington Town SC
100
1
1
100
100
1
3
2
2891
Chris Larr
Northampton SC
100
100
2
100
2
2
6
3
3023
Richard Watsham
Starcross YC / RNSA
100
7
100
100
3
4
14
4
3003
Ben Rolfe
Burghfield SC
100
3
100
100
1
100
104
5
2600
Greg Bartlett
Starcross YC
100
2
100
100
100
3
105
6
2441
Jeff Davison
Island Barn RSC
100
4
3
100
100
100
107
7
2955
Liam Willis
Lymington Town SC
100
20
5
100
100
100
125
8
1654
Mark Lambdin
Bradford On Avon SC
100
18
100
14
100
100
132
9
2459
David Lynall
Bowmoor SC
100
100
100
1
100
100
201
10
1068
Charlie Sansom
Bowmoor SC
100
100
100
2
100
100
202
11
1590
Chris Hatton
Bowmoor SC
Y
100
100
100
3
100
100
203
14
1744
Matt Thursfield
Chelmarsh SC
100
100
100
100
4
100
204
12
Al Keck
Bowmoor SC
100
100
100
4
100
100
204
13
1485
David Rickard
Gurnard SC
M
100
100
4
100
100
100
204
15
2420
Nigel Davies
Draycote WSC
M
100
100
100
100
100
5
205
16
2186
Alan Beaton
Notts County SC
M
100
100
100
100
5
100
205
17
2643
Matt Banbrook
Bowmoor SC
Y
100
100
100
5
100
100
205
18
3005
Nigel Rolfe
Burghfield SC
M
100
5
100
100
100
100
205
20
2832
Clive Harries
Yorkshire Dales SC
M
100
100
100
100
6
100
206
22
Tony Freer
Bowmoor SC
100
100
100
6
100
100
206
21
2727
Keith Willis
Lymington Town SC
M
100
100
6
100
100
100
206
19
9
Andy Harris
Tamesis
100
6
100
100
100
100
206
25
3054
Tim Garvin
Queen Mary SC
100
100
100
100
7
100
207
23
2458
Antony Lynall
Avon SC
100
100
100
7
100
100
207
24
2223
Mark Fox
Lee on Solent SC
M
100
100
7
100
100
100
207
26
1218
Chris Abbott
Nottingham SC
100
100
100
100
8
100
208
29
2935
Phil White
Bowmoor SC
100
100
100
8
100
100
208
27
2114
Fernando Gamboa
Lee on Solent SC
100
100
8
100
100
100
208
28
2806
Griff Tanner
Tamesis
100
8
100
100
100
100
208
31
Nick Holt
Avon SC
100
100
100
9
100
100
209
30
1274
Andy Warren
Avon SC, Glos
M
100
100
9
100
100
100
209
32
2502
Peter Chaplin
Burghfield SC
M
100
9
100
100
100
100
209
33
1655
Ian Pickard
Bowmoor SC
100
100
100
10
100
100
210
34
1336
Joe Gallivan
Lymington Town SC
100
10
100
100
100
100
210
36
1095
Tony Jukes
Chelmarsh SC
100
100
100
11
100
100
211
35
2001
Ben Lyons
Lymington Town SC
100
11
100
100
100
100
211
37
1207
Mark Tissiman
Chelmarsh SC
M
100
100
100
12
100
100
212
38
1211
Nick Eales
Lymington Town SC
M
100
12
100
100
100
100
212
40
Tony Hughes
Avon SC
100
100
100
13
100
100
213
39
1490
Graham Platt
Highcliffe SC
100
13
100
100
100
100
213
41
2225
Johnny McKeown
Lancing SC
M
100
14
100
100
100
100
214
42
2505
Neil Wharmby
Royal Lymington YC
100
15
100
100
100
100
215
43
1295
Jonathan Field
Emsworth SC
100
16
100
100
100
100
216
44
2786
Andy Norman
Island Barn RSC
100
17
100
100
100
100
217
45
2785
John Kewley
Island Barn RSC
100
19
100
100
100
100
219
Y = Youth
L = Lady
M = Master