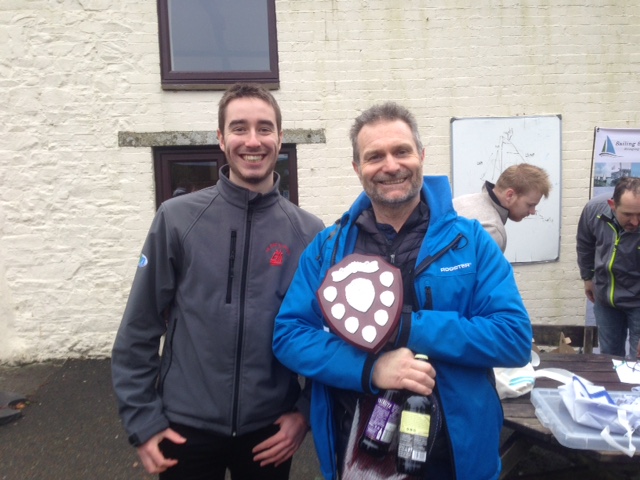 Write-Up
The Roadford Rocket - Roadford Lake, Devon - 28th Jan
Supported by Exe Sails
Part of the Sailing Southwest and RS Aero UK winter series.
Congratulations to Steve Cockerill on winning the Roadford Rocket in his RS Aero 7!
The Rocket is a pursuit race with a wonderful variety of classes and with the earliest starters racing for some 160 minutes it is something of an endurance challenge too! This year was a big one with a 64 boat entry, bolstered by the emergence of the Sailing Southwest winter series, mild temperatures and medium winds.
Nine RS Aeros turned out with a spread covering all three rigs. The breeze was essentially medium, but gave a bit of everything with hard planing in the gusts but also some light winds under the shoreline. Within the RS Aeros the 5s had a 6 minute head start on the 7s and similarly, the 7s had a 6 minute head start on the 9s. The 9s then had 134 minutes to catch them before the rolling finish at 14:15hrs.
Steve Cockerill overtook the early starting Firefly to take the lead towards the end of the race. The three RS Aero 9s had the challenge of a crowded start sharing with other classes. Peter Barton in his RS Aero 9 spent the last 40 minutes narrowly holding off a couple of chasing Phantoms to take 3rd overall.
Thanks to local RS Aero sailor Richard Willows who once again missed competing himself to organise and PRO another successful event.
VIDEOS
1. The offical video of the Exe Sails Roadford Rocket by Ben Hawkes. Photos taken by Sailing Southwest.
2. The RS Aero 7 start at the Roadford Rocket, a large pursuit race held in the South West of England, with some guest footage from Ben Hawkes' drone. Featuring Steve Cockerill's boom camera with some interesting aft facing tacking. This technique maximises the glide in the tack - read the analysis in
Steve's blog here
.
Results
OVERALL (64 starters)
1st - RS Aero 7, Steve Cockerill, Stokes Bay SC
2nd - Firefly, Angus Cook & Ellie Hopper, North Devon YC
3rd - RS Aero 9, Peter Barton, Lymington Town SC
1st Lady & 14th overall - RS Aero 7, Sarah Cockerill, Stokes Bay SC
Other RS Aeros
12th - RS Aero 7, Noah Rees, Torpoint Mosquito SC
18th - RS Aero 9, Paul Bartlett, Starcross SC
29th - RS Aero 9, Greg Bartlett, Starcross SC
49th - RS Aero 7, Matt Reeves, Torpoint Mosquito SC
52nd - RS Aero 5, James Dowrick, Porthpean SC
60th - RS Aero 7, Andrew Petter, Lyme Regis SC