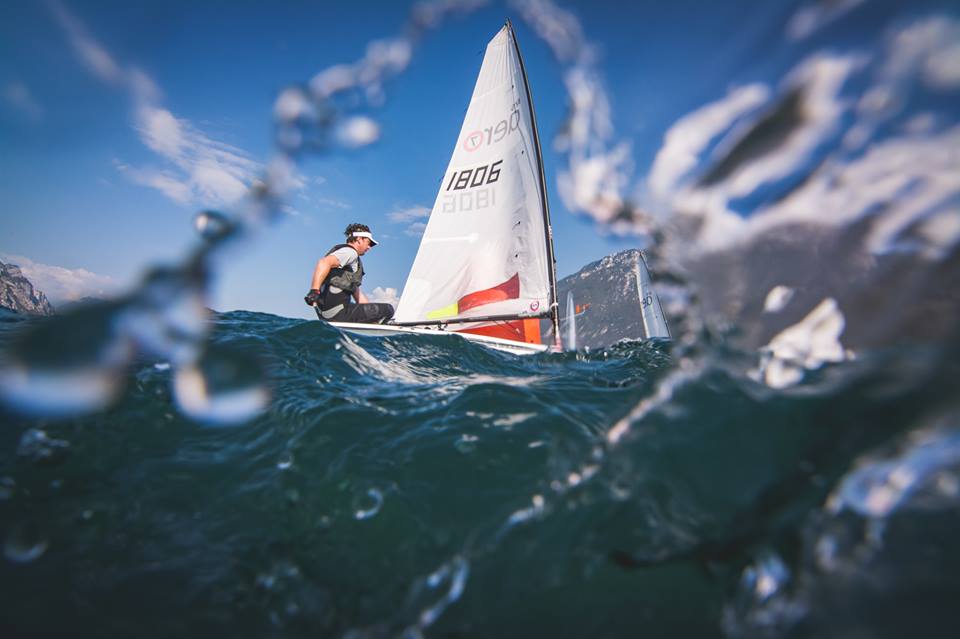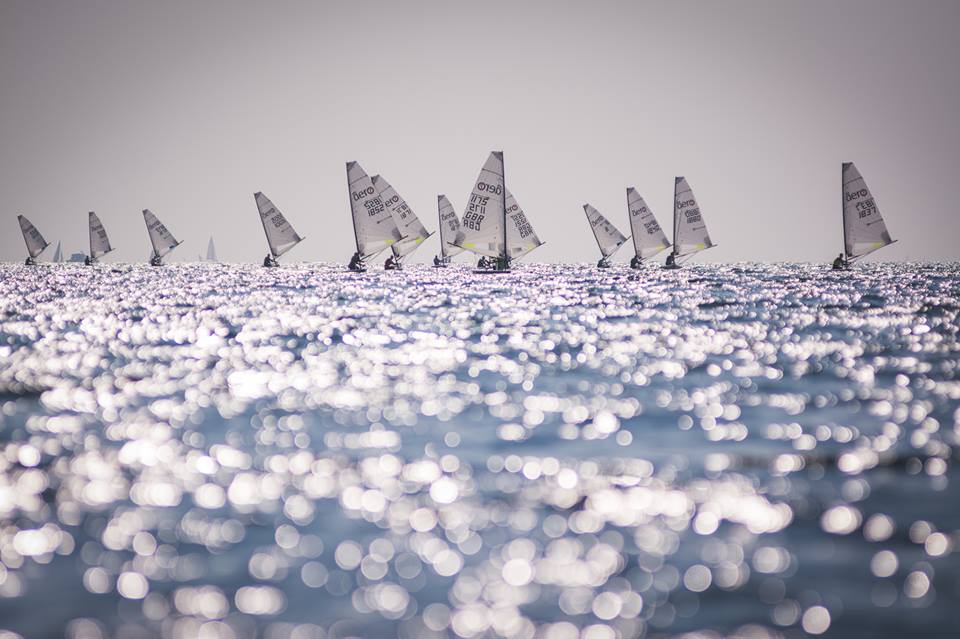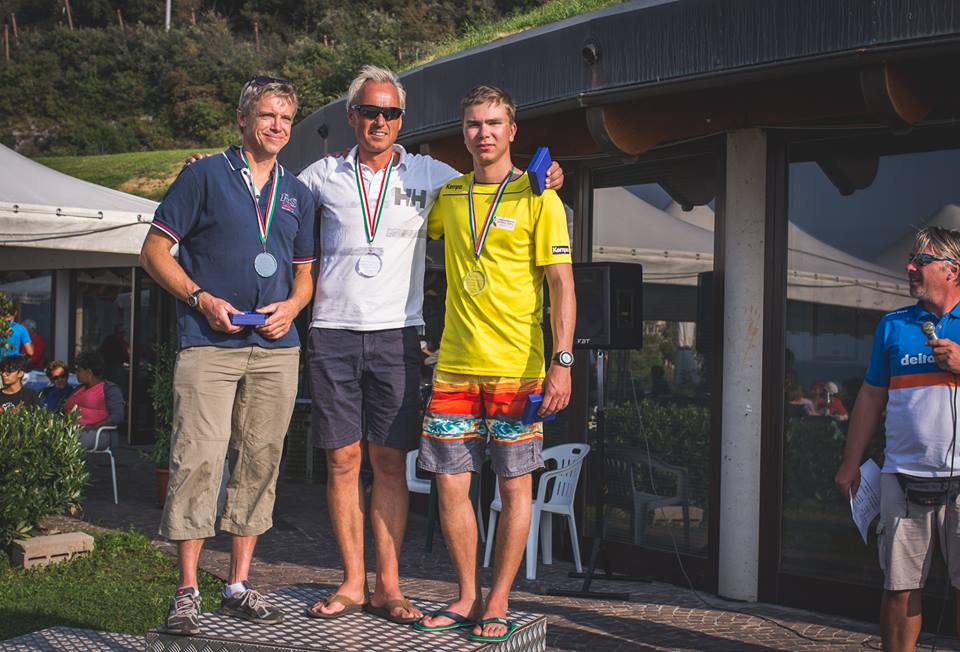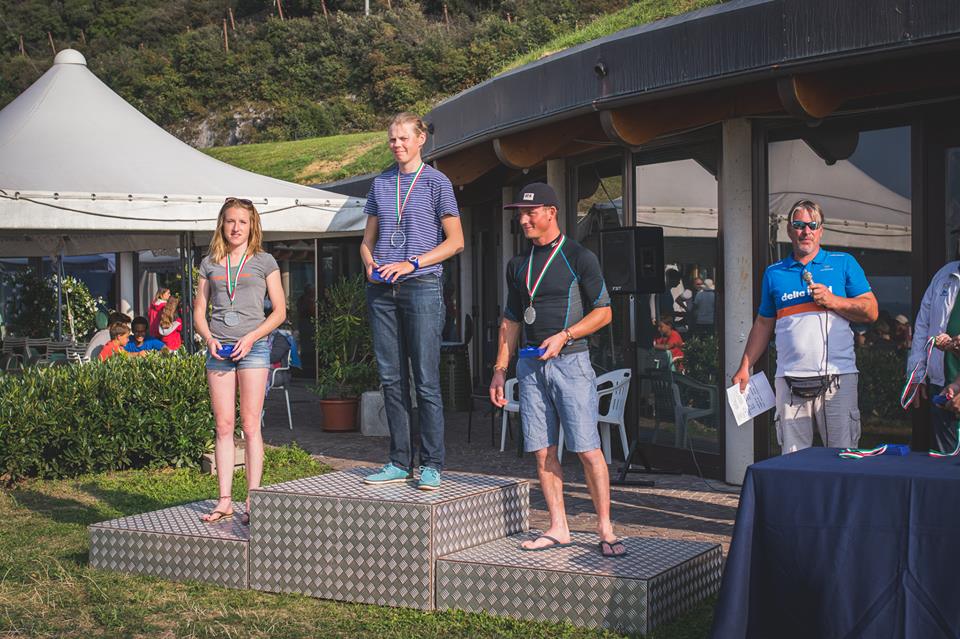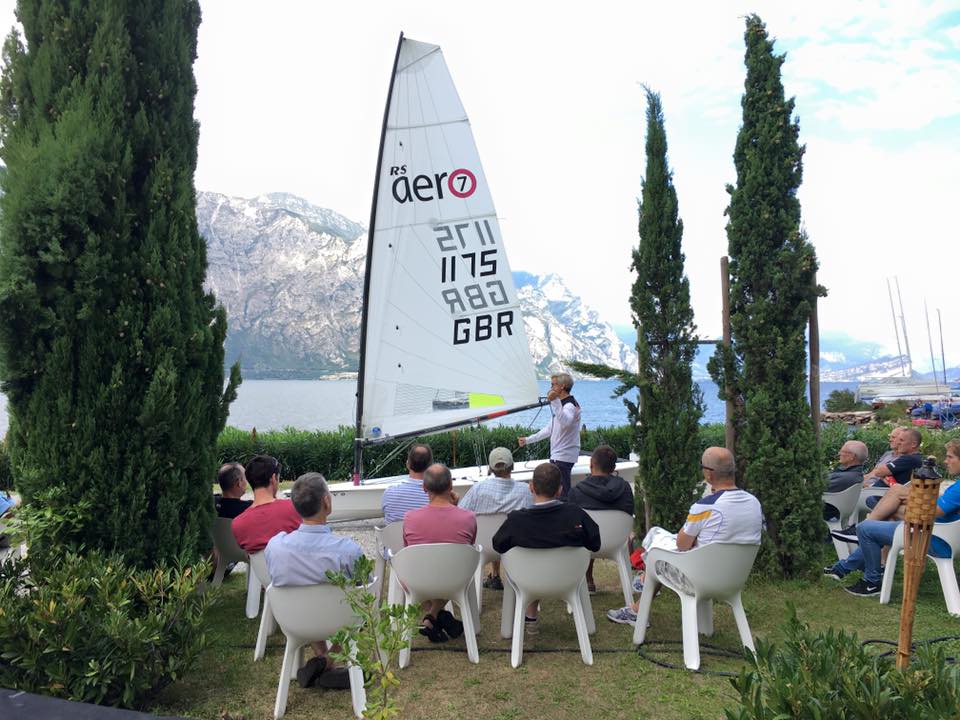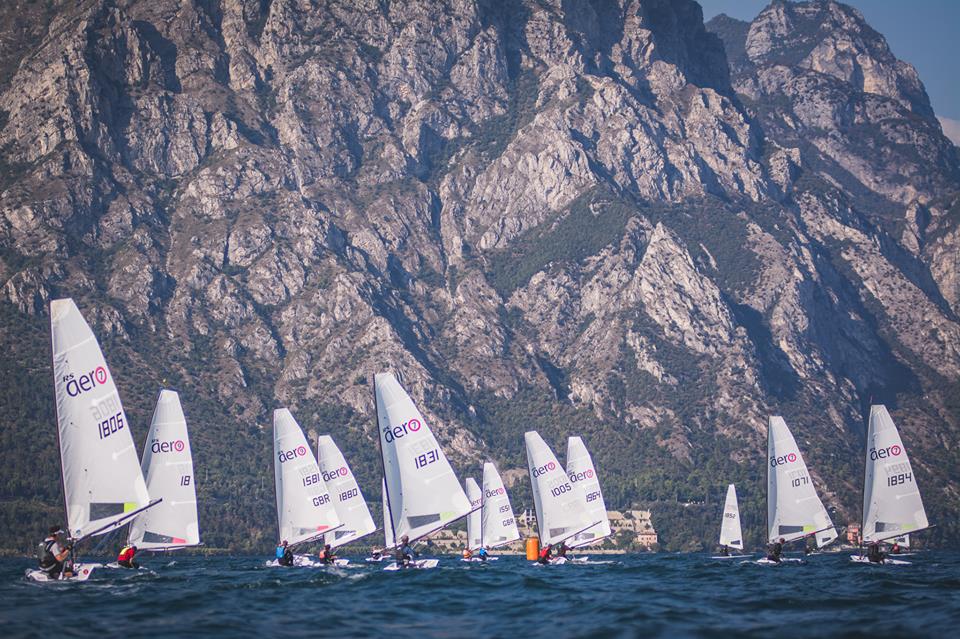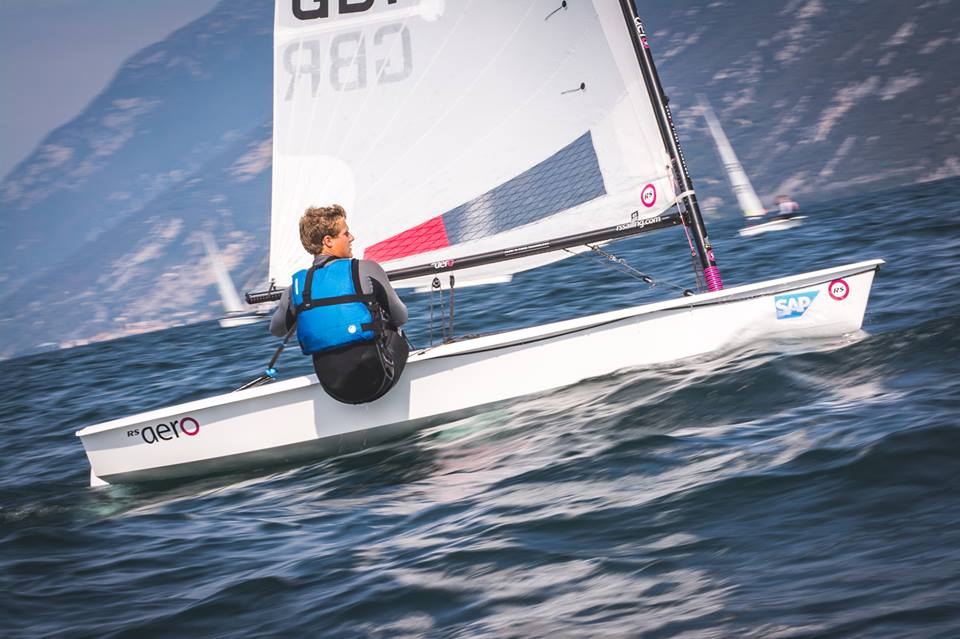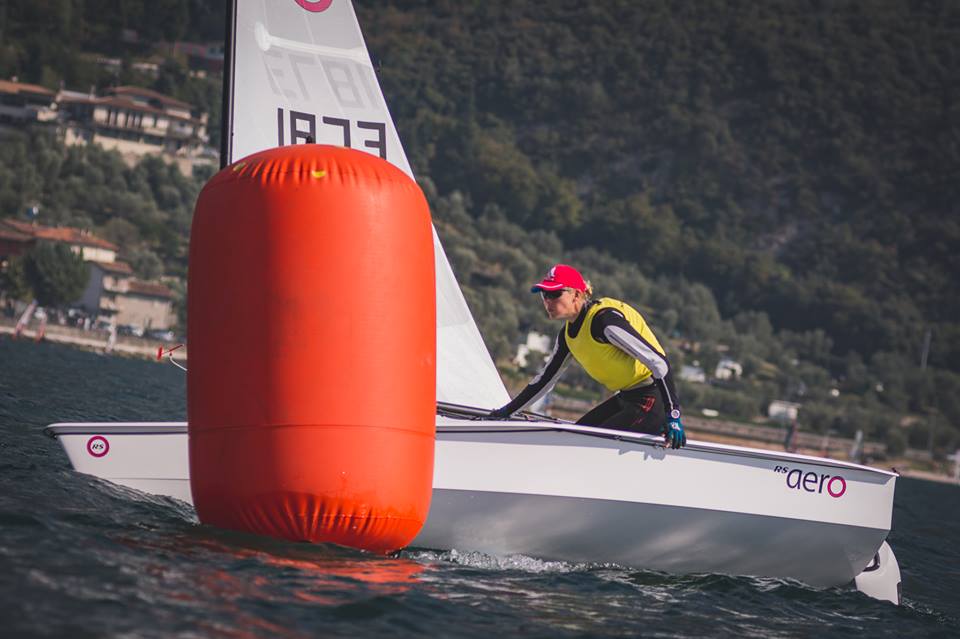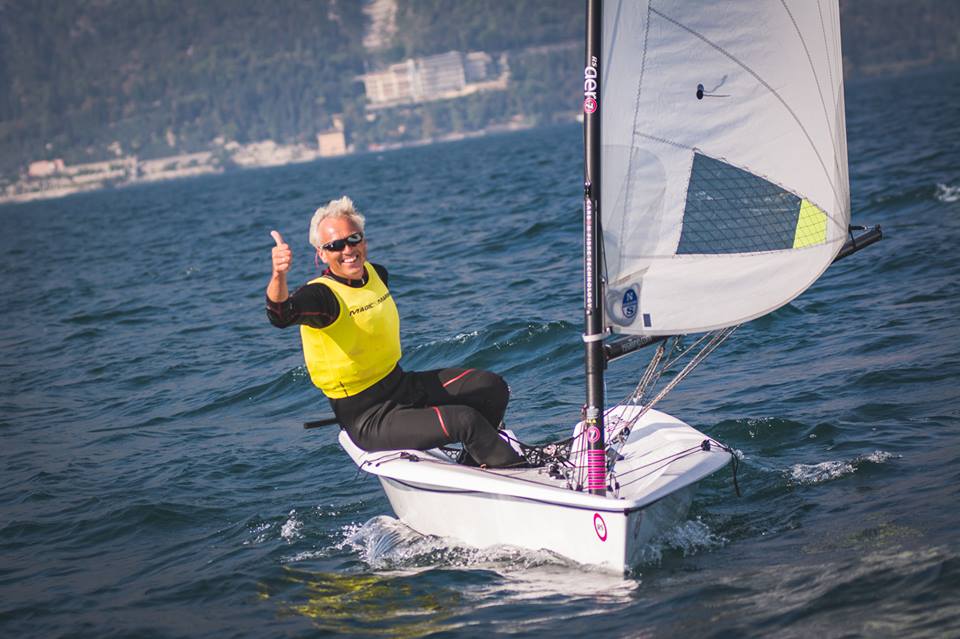 Write-Up
Day 1
After a race briefing and a fantastic lunchtime opening ceremony spread, washed down by a couple of glasses of bubbly waiting for the afternoon breeze, racing got underway on time on a pristine blue sky day. Three great races took place with the breeze increasing from 12kn to 16kn in the southerly Ora.
Norway is dominating the 7s, but Geoff Carveth battled back take the win in race 3.
Estonia hold a narrow lead from Great Britain in the 5s. In the 9s Sweden took the first race before Great Britain fought back to lead overnight.

Day 2
Another awesome day! At 12:20 with barely any breeze on the lake people were idling around the dinghy park and the race officer warned that racing would start promptly at 13:00, after he finished his lunch and glass of wine.... and so it did! With the lunchtime southerly change the wind arrived bang on time with 10kn from the south at 13:00hrs, steadily increasing to 15kn during the afternoon.
Per Christian Bordal of Norway continued his domination with a string of firsts showing magical downwind speed through the waves. Peter Barton fought back with some upwind speed to take a trio of 2nds. Ben Rolfe looks safe for the title in the 9s already. In the 5s just 1 point separates Liina Kolk EST and Kate Sargent GBR going into the last day.
Over beer and pasta after the daily prize giving Per Christian was good enough to share the secrets of his downwind technique with the gathered fleet, developed from years sailing Europes and Lasers at top international level....thanks Per Christian!

Day 3
Another day of magnificent racing on Lake Garda to conclude the series. Racing was intense but ultimately no podium bibs changed colour on the final day...
Ben Rolfe GBR took the 9s from the ever improving Tomas Sandstrom SWE.
Peter Barton GBR battled back to take both race wins on the final day in the 7s and Per Christian Bordal NOR took the RS Aerocup 7 series for the second year.
Liina Kolk EST started the day just 1 point ahead in the 5s but Kate Sargent GBR smashed out two 1sts on the water. However Kate was scored over the start line in the final race handing the title to Liina.
PHOTOS by Sebastian Godsmark of SBG Films;
A selection on the Class website
HERE
Pre-event Coaching gallery by Peter Barton
HERE
Results
9 races, 2 discards
RS AERO 5
| | | | | | | | | | | | | | |
| --- | --- | --- | --- | --- | --- | --- | --- | --- | --- | --- | --- | --- | --- |
| Rank | Sail | Name/Club | Category | R1 | R2 | R3 | R4 | R5 | R6 | R7 | R8 | R9 | Points |
| 1 | EST 1873 | KOLK LIINA, RS SAILORS ESTONIA | L | -2 | 1 | 1 | -3 | 1 | 1 | 2 | 2 | 1 | 9,0 |
| 2 | GBR 8 | SARGENT KATE, SALTASH SAILING CLUB | L | 1 | -2 | 2 | 1 | 2 | 2 | 1 | 1 | (ocs) | 10,0 |
| 3 | EST 1929 | SILLASTE ANDRIAS, PIRITA SVERTPAADIKLUBI | | 3 | 3 | 3 | 2 | 3 | 3 | -4 | -4 | 2 | 19,0 |
| 4 | GBR 1502 | HARVEY JON, KEYHAVEN YACHT CLUB | M | -5 | -4 | 4 | 4 | 4 | 4 | 3 | 3 | 4 | 26,0 |
| 5 | NED 1650 | VAN DEN BOOGAARD KARLYN, D.M.T.R.A | L | 4 | -5 | 5 | 5 | 5 | 5 | 5 | -6 | 3 | 32,0 |
| 6 | GBR 1141 | RICKELS JONATHAN, GRAFHAM WATER SC | M | 6 | 6 | 6 | 6 | 6 | 6 | (dns) | (dnc) | dnc | 43,0 |
RS AERO 7
| | | | | | | | | | | | | | |
| --- | --- | --- | --- | --- | --- | --- | --- | --- | --- | --- | --- | --- | --- |
| Rank | Sail | Name/Club | Category | R1 | R2 | R3 | R4 | R5 | R6 | R7 | R8 | R9 | Points |
| 1 | NOR 1837 | BORDAL PER CHRISTIAN, MOSS SEILFOREN, OSLO | | 1 | 1 | -2 | 1 | 1 | 1 | 1 | -3 | 2 | 8,0 |
| 2 | GBR 1175 | BARTON PETER, LYMINGTON TOWN SC | | 2 | 3 | -5 | 2 | (ocs) | 2 | 2 | 1 | 1 | 13,0 |
| 3 | EST 1871 | OUNAP KRISTO, PIRITA SVERTPAADIKLUBI | | -11 | 2 | 3 | 3 | 2 | 3 | -4 | 2 | 4 | 19,0 |
| 4 | NOR 1852 | SYRRIST SIMEN, MOSS SEILFORENING, OSLO | | 3 | -7 | 6 | 6 | 7 | 4 | 3 | -9 | 3 | 32,0 |
| 5 | EST 1781 | HAAVEL ANTS, PIRITA SVERTPAADIKLUBI | | -14 | 8 | -10 | 4 | 4 | 5 | 5 | 7 | 6 | 39,0 |
| 6 | GER 1723 | WALTHER MARCUS, DSCL FRANKFURT | | 7 | 4 | 4 | 7 | 3 | 8 | 7 | (dns) | (dns) | 40,0 |
| 7 | GBR 1840 | CARVETH GEOFF, HAYLING ISLAND SC | M | -13 | 5 | 1 | 8 | 5 | 7 | -13 | 8 | 7 | 41,0 |
| 8 | IRL 1964 | CRAIG SEAN, ROYAL ST GEORGE YC, DUBLIN | | -15 | 9 | 7 | 9 | 9 | 9 | -11 | 5 | 5 | 53,0 |
| 9 | GBR 1551 | ROLFE NIGEL, BURGHFIELD SC | | -17 | 10 | 9 | 10 | 6 | 6 | 9 | -12 | 8 | 58,0 |
| 10 | NOR 1880 | BORDAL HERMAN, MOSS SEILFORENING, OSLO | | 12 | 11 | 11 | -18 | 8 | -17 | 12 | 10 | 9 | 73,0 |
| 11 | GBR 1806 | MAGUIRE SIMON, ROYAL LYMINGTON YC | | 4 | 6 | 8 | 12 | (ocs) | 11 | 15 | 18 | (ocs) | 74,0 |
| 12 | IRL 1894 | VAN MAANEN ROY, GREYSTONES SC, DUBLIN | | 6 | -16 | 12 | 16 | (dns) | 15 | 8 | 11 | 10 | 78,0 |
| 13 | ITA 1005 | GIORGINI MICHELE, TRIESTE | | (dnc) | (dnc) | dnc | 5 | 10 | 12 | 6 | 4 | 15 | 79,0 |
| 14 | AUS 2 | STEPHINSON PETER, MIDDLE HARBOUR, SYDNEY | M | 5 | 13 | -19 | 11 | (ocs) | 14 | 10 | 17 | 11 | 81,0 |
| 15 | RUS 1875 | IVANOVSKIY VLADISLAV, ST PETERSBURG YC | | -20 | 12 | 15 | -17 | 12 | 10 | 16 | 6 | 13 | 84,0 |
| 16 | USA 1831 | DUBOIS DOUGLAS, UTAH | M | 8 | 14 | 13 | 14 | 14 | -16 | 14 | 15 | (dns) | 92,0 |
| 17 | GBR 1071 | CHAPLIN PETER, BURGHFIELD SC | M | -18 | 15 | 16 | 13 | 13 | 13 | -18 | 13 | 14 | 97,0 |
| 18 | AUS 7 | GILES ANDREW, LAKE CULLULLERAINE, MILDURA | | 10 | 18 | 14 | 15 | 11 | 19 | -20 | -20 | 18 | 105,0 |
| 19 | GBR 1258 | CRAVEN NICK, YORKSHIRE DALES SC | | 9 | 17 | 17 | 19 | 16 | -20 | 19 | -23 | 19 | 116,0 |
| 20 | GBR 1842 | SAQUI MIKE, ROYAL LYMINGTON YC | | 16 | 19 | 18 | -22 | 18 | 18 | 17 | -21 | 16 | 122,0 |
| 21 | USA 1369 | STOW DEREK, MASSAPOAG YC, BOSTON | M | 19 | 20 | (dns) | 20 | 15 | 21 | (dns) | 19 | 12 | 126,0 |
| 22 | GER 1767 | BRUMMUNDT SEBASTIAN, FBGY, BERLIN | | (ocs) | 22 | 21 | 21 | 17 | -23 | 22 | 16 | 17 | 136,0 |
| 23 | ITA 1801 | SAVELLI FRANCESCO, CVS FANO | | 21 | 21 | 20 | (dsq) | 19 | -22 | 21 | 22 | 20 | 144,0 |
| 24 | ITA 1110 | MOBILIO PIER LUIGI, FOCE DEL CECIN, FLORENCE | M | 22 | 23 | 22 | 23 | 20 | -24 | 23 | -24 | 21 | 154,0 |
| 25 | GBR 1581 | BEN ROLFE, BURGHFIELD SC | | (dnc) | (dnc) | dnc | dnc | dnc | dnc | dnc | 14 | dns | 176,0 |
| 26 | GBR 1141 | RICKELS JONATHAN, GRAFHAM WATER SC | M | (dnc) | (dnc) | dnc | dnc | dnc | dnc | dnc | 25 | 20 | 180,0 |
RS AERO 9
| | | | | | | | | | | | | | |
| --- | --- | --- | --- | --- | --- | --- | --- | --- | --- | --- | --- | --- | --- |
| Rank | Sail | Name/Club | Category | R1 | R2 | R3 | R4 | R5 | R6 | R7 | R8 | R9 | Points |
| 1 | GBR 1581 | ROLFE BEN, BURGHFIELD SC | | 2 | 1 | 1 | 1 | 1 | 1 | 2 | (dns) | (dns) | 9,0 |
| 2 | SWE 18 | SANDSTROM THOMAS, SKRG STOCKHOLM | | 1 | 2 | 2 | 2 | -3 | 2 | 3 | 1 | (dns) | 13,0 |
| 3 | GBR 1972 | HOOD JIM, LYMINGTON TOWN SC | | 3 | 3 | 3 | 3 | 2 | 3 | 1 | (dns) | (dns) | 18,0 |
| 4 | GER 1914 | GAHRKEN PETER, SG MANCHING, MUNICH | M | -4 | 4 | 4 | (dsq) | 4 | 4 | 4 | 2 | 1 | 23,0 |