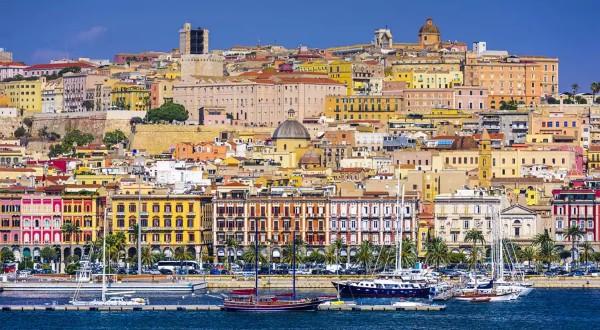 RS Aero European Youth Team Racing Championship, 28-30 October
28/10/2022 01:08:00
RS Aero European Youth Team Racing Championship, 28-30 October
PREVIEW
The first RS Aero Team Racing European Youth Championship will take place from 28 to 30 October 2022 in Cagliari, the championship will be hosted and in collaboration with the Circolo Canottieri Ichnusa.
12 teams from 8 nations will compete on Saturday and Sunday within the large harbour at Cagliari alongside the Prada AC base for this interesting competitive challenge aboard the promising RS Aero Class. Friday is for training, familiarisation and getting to know the other competitors. The smallest RS Aero 5 sail is to be used, as team racing is about tactical positioning and precision manoeuvres, rather than speed.
Latvia, Estonia, Ireland and Iceland, Great Britain, Germany, Sweden and Italy will be the nations involved in this important event in Cagliari. This in turn builds up to the 2023 RS Aero World Championship in Italy which will take place nearby in Calasetta, Sardinia, in July 2023 that the Italian Naval League of Sulcis will have the honour of organizing.
RS Aero International Class Manager, Peter Barton, is hugely exciting to see the first RS Aero Youth European Team Racing event launched in Cagliari, Sardinia; "The championship represents a fantastic opportunity for young RS Aero sailors to experience exciting international competition at a unique event and make some new friends for life this weekend. Visiting Cagliari at the end of October has proven very popular as an opportunity to extend the competitive racing season - especially with the visitors for northern Europe! The 12 places available on the entry list sold out early and it is fantastic to have 8 nations. The mixed gender pairs format will further help strengthen female representation within the Class both at youth and into adult competition."
The various important events that took place in 2022 compared the new generation RS Aero Class that is increasingly taking hold among the very young Italian sailors;
"We are investing in training and fun" - assures the president of the Italian National Class, Guido Sirolli – "considering that we offer a boat with great racing performance and innovative both in terms of speed and manoeuvrability, weighing only 31kg, a boat ideal for class changes that occur around the age of 14 or 15 years." The results of the athletes confirm a close correlation with the O'Pen Skiff class in Italy, the origin of many of the Italian athletes competing. The Championship has the benefit of the RS Aero charter fleet and so also offers young sailors the opportunity to try out the RS Aero with many northern European teams fielding sailors from the Laser or Europe classes.
The RS Aeros for the Championship were made available by the Italian RS dealer Negri Nautica and some generous owners within the class. The International RS Aero youth championship takes place with thanks to the support from the Sardinia Region and the Municipality of Cagliari.
Entry List: https://www.rsaerosailing.org/index.asp?p=Entry%20List&eid=2495
Further Information: http://www.leganavalesulcis.it/wp/rs-aero-european-youth-team-racing-championship/