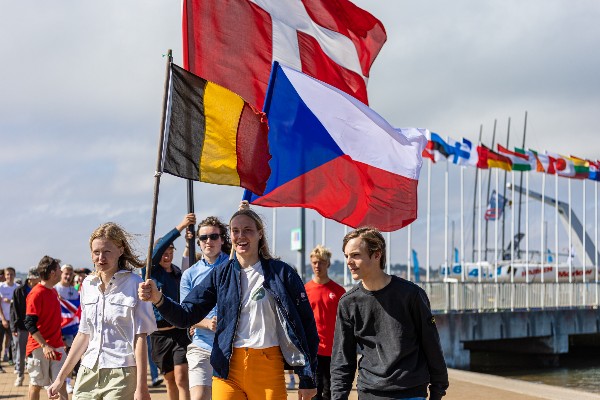 RS Aero Youth World Championship - PREVIEW
24/07/2022 14:17:00
RS Aero Youth World Championship
Weymouth & Portland National Sailing Academy, UK
25-29th July
PREVIEW

The 1st RS Aero Youth World Championship is to be hosted by the Weymouth & Portland National Sailing Academy in the UK as part of the RS Games. Over two weeks all RS Classes are completing and the RS Aeros have two consecutive week long champs with the 1st RS Aero Youth Worlds followed by the 4th RS Aero European Championship in the second week.

After a busy weekend training, familiarising, registering and measuring the racing will then begin in earnest on Monday. Over five days there will be fourteen races split between Weymouth Bay and Portland Harbour. The 73 entries are competing in the RS Aero 5 and RS Aero 7 Classes and represent 12 countries.

The large UK home fleet has the largest national entry. Next largest is Italy with teams from the islands of Sardinia and the smaller Procida near Naples. The third largest is Sweden, which, like Italy has seen their youth RS Aero fleet increase terrifically over the past two years. The furthest travelled competitors are from China and the USA who look forward to enjoying the fun and competition of the large youth RS Aero fleet at these championships.
Racing is set to be intense with many proven competitors on the entry list all vying for the 1st World Youth title in both the RS Aero 5s and RS Aero 7s.
THANKS to all the supporters of the RS Games; RS Sailing, Rooster, Seldén Mast, Harken, Noble Marine, Kingfisher Yacht Ropes, LifeJacket Skin Protection, Spinlock, Fernhurst Books, HYDE SAILS, MarkSetBot, Digital Sailing and Allen Sailing.

PHOTOS will be added to www.digitalsailing.co.uk each day by Digital Sailing with 50% Discount code 'RSGAMES' until 20th August.