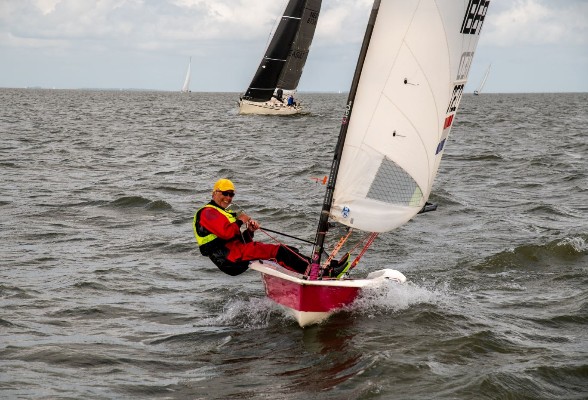 30 Mile Challenge - IJsselmeer, Netherlands
19/07/2022 20:47:00
30 Mile Challenge - IJsselmeer, Netherlands, May 2022
Taking on the big boats in the annual Dutch long distance race in an RS Aero 7!

Gerard Vos gives his exciting account of a big day out! ;
' The RS Aero is not the most obvious 'weapon of choice' for sailing a 30 Mile race. That race https://30mijls.olgc.nl/ is rather special: 5 different courses (IJsselmeer and North Sea) that you may start (solo, two handed or full crew) on any day you want, clock-wise or anti-clockwise, at the start point you like. By nature it is a handicap race, using the Dutch variant of Portsmounth Yardstick: the "SW" system. Of course you may start as many times as you want. The average speed determines the year ranking list. It is typically an event for 'big boats'. But it is an excellent event for training to sail on decent waves, (which I do not have on my inland lake). And my lake does not have a 7 mile broad reach!
On Saturday May 21 a '30 mile event' was scheduled. 20 boats started the 30 Mile Ijsselmeer course, starting in Enkhuizen. The wind conditions were optimal for his course: West 15-20 knots.
I decided to start with the 7 mile long broad reach, followed by the 7 mile long beam reach to and from Urk. Not a bad choice: i topped 14.5 knots. By far not my easiest ride due to the big waves. No issues with the navigation; i am using a Tacktick micro compass, a Veloticek Speedpuck, a Gill Regatta Race timer and -most important- an iPad mini with the Navionics Boating app. That sounds easy but with Saturday's conditions sailing with rudder and sheet in one hand is tricky!
After those 20 speedy miles I had to sail a long close hauled part; finding a smooth way through/ over the waves. It was nice to end the round high speed again.
I reached the finish together with several big boats; they had started 30 minutes after me, sailing clockwise. And because I knew that I could afford at least 12 minutes loss per hour (20% difference in handicap) it was clear i sailed very well (that's explaining my big smile) '

Photo: by Volkert Zijlker, plus the Course Chart & the preliminary 2022 ranking!