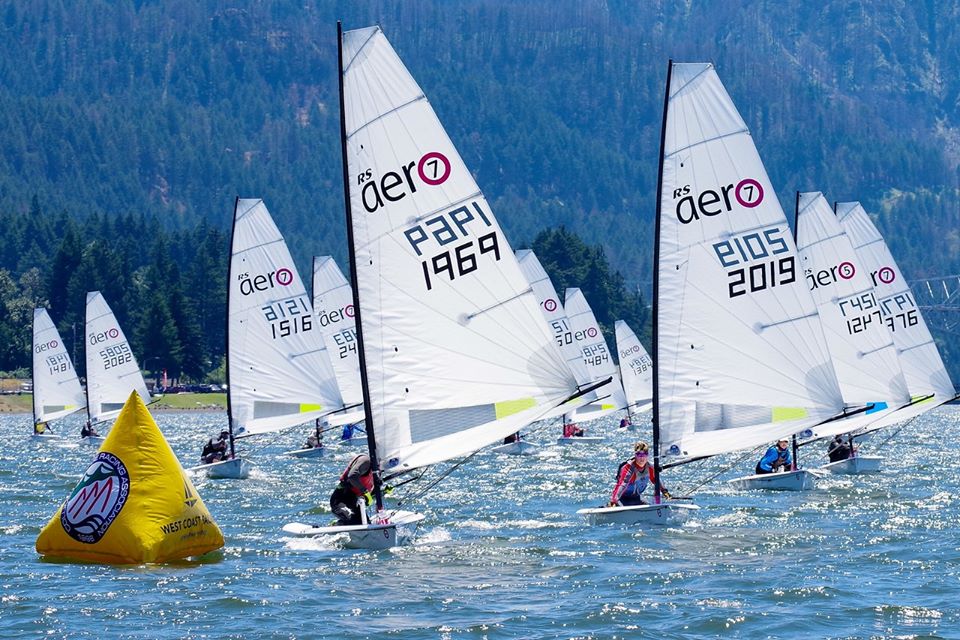 4th RS Aero World Championship - Oregon, USA, 31July-7Aug 2020
21/04/2020 00:23:13
4th RS Aero World Championship 2020
Columbia Gorge RA, Cascade Locks,
Oregon, USA, 31July-7Aug

*CANCELED*
Sadly we are at the point of having to cancel the 2020 RS Aero World Championship in the USA.
The ongoing uncertainty of restrictions on recreational international travel and size of gatherings, together with the increasing pressure on building and shipping the 40-50 boat charter fleet have become increasingly onerous on the chances of an adequately successful international event.
Many thanks to the Regatta Chair, Bill Symes, CGRA and all involved in both organising and supporting the USA Worlds so far. Thanks to everyone for their patience whilst we made a considered decision.
We look forward in hope for an excellent North American Champs there instead. Dropping the international part will provide a much increased likelihood of a successful smaller event. A reduced charter fleet will be available and RS Sailing will confirm the charter fee for the new event very soon.
We hope to return to the Columbia Gorge RA for an RS Aero World Championship in the USA at the next good opportunity, although we do already have existing commitments to Italy (Malcesine, Garda) in 2021 and the UK (Weymouth) in 2022 to consider.
Here follows the announcement;
Bill Symes, Regatta Chairman, RS Aero Worlds 2020;
'Like all of you, the RS Aero Worlds 2020 organizing team has spent the past month tracking daily developments in the global coronavirus pandemic, looking for some light at the end of the tunnel. Unfortunately, as of today that light has not appeared. Because of the continuing uncertainty that conditions will improve enough by August to ensure a safe and successful event, the organizing team is announcing today our decision to cancel the 2020 RS Aero World Championship. While we are deeply disappointed to abandon this project that so many of us have invested so much in, we recognize our obligation to provide you, the participants, volunteers, and sponsors, with certainty so that you can adjust your plans while there is still time.
Concurrent with the decision to cancel the Worlds, the organizing team has stipulated that;
All paid entry fees will be refunded by CGRA (details in a separate email to follow)
All paid charter fees will be refunded by RS Sailing (details in a separate email to follow)
In place of the 2020 RS Aero Worlds, and assuming health and travel restrictions have been lifted, CGRA will host the RS Aero North American Championship July 31-Aug 2. Registration and NOR will be posted shortly, and a limited number of charter boats will be available for visiting sailors.
The Columbia Gorge One-Design Regatta (CGOD) scheduled for the previous weekend, July 25-26, remains unaffected, and RS Aeros are invited to sail in this event as well.
The coaching clinic planned for July 27-29 is cancelled, although if the regattas go forward as scheduled, it is likely that a scaled down clinic will emerge. Stay tuned.
We will continue to monitor the crisis closely and hold out hope that we can be back on the water by mid-summer. If so, we hope you will consider joining us for one or both of these "consolation prize" events!
On behalf of the Columbia Gorge Racing Association, the RS Aero Class Association, and RS Sailing, I want to express our sincere appreciation for your patience and support, and our fervent hope that we will have the opportunity to welcome you to the Gorge soon. In the meantime, take care, stay safe, and trust in brighter sailing days to come.'
Bill Symes, Regatta Chairman, RS Aero Worlds 2020
*UPDATE*
Due to travel restrictions across the US the event later become the RS Aero Pacific Coast Championship