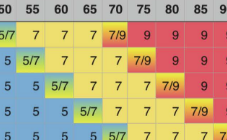 RS Aero Rig Selection Guide
02/10/2019 23:36:48
RS Aero Rig Selection Guide
Thanks to Nigel Rolfe for his refined update on the very useful RS Aero Rig Selection Guide he created two years ago.
The RS Aeros Class has enjoyed a huge number of events since it was first produced, enabling extra clarity through the experience and understanding gained on the three RS Aero rigs.
The guide provides a really handy summary if you are ever unsure.
Most keen RS Aero racers will opt to own two rigs, enabling the benefit of choice when they travel to an event and ensuring that less good sailing days are lost due to particularly strong or light winds.
Having that flexibility of choice enables;
More fun -

the right sail size for the current conditions

More participation

- travelling to marginal events and both starting and finishing more races

More safety

-

leaving more safety boat resource for other classes who don't have the options
The featherweight RS Aero with its responsive light rig makes the versatility sailors enjoy by having choice akin to selecting the sail size on a windsurf. That is no surprise when you consider the RS Aero's all up weight is midway between similar type sailing dinghies and windsurfs.
It is important to remember - rig choice is not just a function of weight and wind, but also of ability, fitness, local conditions, exposure and attitude too!