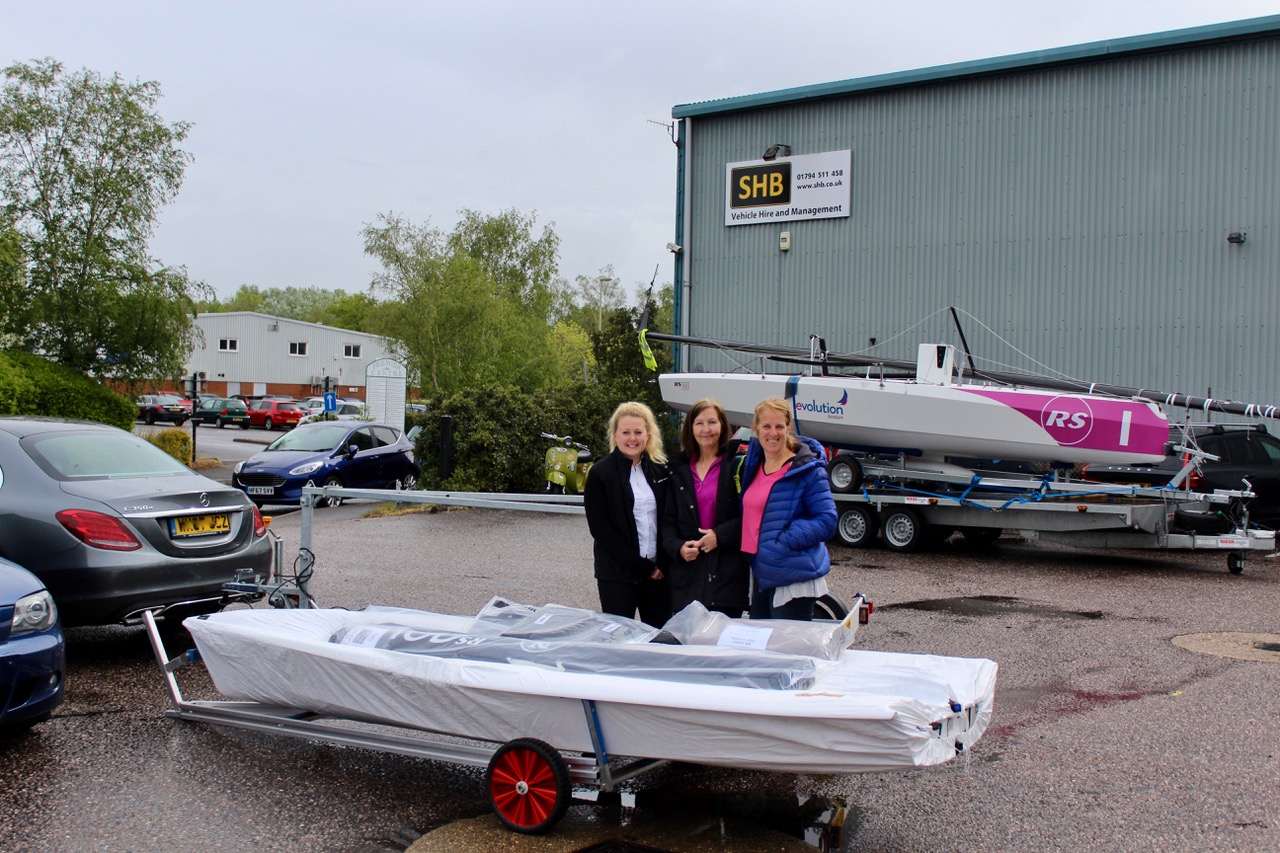 Who are the RS Aero Lady Sailors?
15/05/2019 16:12:16
One more Lady RS Aero owner for the growing fleet at Highcliffe Sailing Club on Christchurch Harbour.
Thanks to our dedicated Ladies rep. on the UK Class Committee Sarah Desjonqueres for assisting Sue with the pickup of her new RS Aero and providing this account of their fun delivery day!
Who are the RS Aero Lady Sailors?
Mid May we rocked up to RS Sailing in Romsey with a double stacker trailer and an eco-friendly hybrid car, full green sustainability credentials in check, to fulfil the long-held dream of a lady sailor; the collection of her brand spanking new RS Aero.
The RS Aero Ladies fleet in the UK just keeps on growing, with no signs of slowing. As we reach Spring 2019, there are well over one hundred lady sailors up and down the country, proudly representing a vast number of sailing clubs. But what is it that draws the ladies to this lightweight, sensitive, comfortable on the posterior, easy to rig (and right), super fun RS Aero?
Post collection, and once the new toy had been safely delivered to its new home at Highcliffe Sailing Club near Christchurch, (and before we dug deep inside ourselves to find the sense of humour essential to successfully ploughing through rigging guide), a 90 minute bonding experience between every new RS Aero owner and their new Aero, as Aero Delivery Driver, I thought it might be time to nose a little further as to why Sue took the decision to ditch her trusty 4.7 rig Laser and climb aboard the whizzy, machine that is an RS Aero. Over a light bite in the Haven pub I asked her a few questions.
Aero Delivery Driver (ADD):
Sue, congratulations on the purchase of your new boat! On a scale of 1 to 10, how excited are you to be finally doing this today?
Sue:
Oh wow, If I could say 11 I would!
ADD:
And your motivations? You already have a Laser, what fuelled your long-held desire to get out on the water in an Aero?
Sue:
I have to say, my sailing buddies and their enthusiasm. My sailing has improved so much over the years and I feel that I have outgrown my old laser. I want to keep learning, keep improving and I think the Aero is the perfect boat to do that with.
ADD: How long have you been sailing?
Sue: Well: I first learned to sail when I moved to Dorset in mid 2011. I used to windsurf a bit, but it was my partner David who taught me to sail. I have to admit I was pretty much a fair weather sailor, I was afraid to use the cleats, afraid to navigate in amongst moored boats or even cross the channel in Christchurch harbour. I was also always worried about capsizing, the idea of racing or going out in any kind of wind was unimaginable.
ADD:
So what was it that built your confidence?

Sue:
Definitely the 'Ladies that Launch' at my local club. They made sailing fun. The instructors introduced games like the 'space hopper challenge' which helped us focus on capturing a stupid orange toy and not on worrying about handling the boat. Without a doubt this helped with my fear of moored boats. With the new boat control skills came a greater appreciation of speed and a desire to go faster - In fact, it was at that point I realised just how competitive I could be!
ADD:
Did this new found competitiveness lead you to the start line of your club racing?
Sue:
Yes absolutely, although I started racing in the relative safety of Christchurch harbour. I learnt how to hike and the importance of it, and the pleasure of joining in and being part of something. The encouragement I got from other sailors, both those racing and as part of the 'Ladies That Launch' gave me more confidence than I could have dreamed of. The more I sailed the more 'hard core' I became, the more I wanted to push my limits and test my skills. After a couple of years I even managed to win Harbour Evening Series at Highcliffe over 10 races against 20 other boats!
ADD:
So, what is your main goal with your new Aero?
Sue:
To sail alongside my 2 lady Aero sailing buddies at Highcliffe and keep up with them! I also want to compete in a sea series at Highcliffe and lose my fear of sailing the channel out into Christchurch Bay . Oh and I want to be at the front of the race!
ADD:
And long term?
Sue:
Open Meetings of course! Meeting up with the other ladies and being part of the burgeoning gang of RS Aero lady sailors out on the circuit!
RS Aero Ladies - meet a new member to the RS Lady sailing gang!
Photo: L-R Lynn Billows (UK Committee - Youth Ladies Rep (transitions & retention), Sue Hunter (New RS Aero Lady Sailor), Sarah Desjonqueres (UK Committee - Ladies Rep)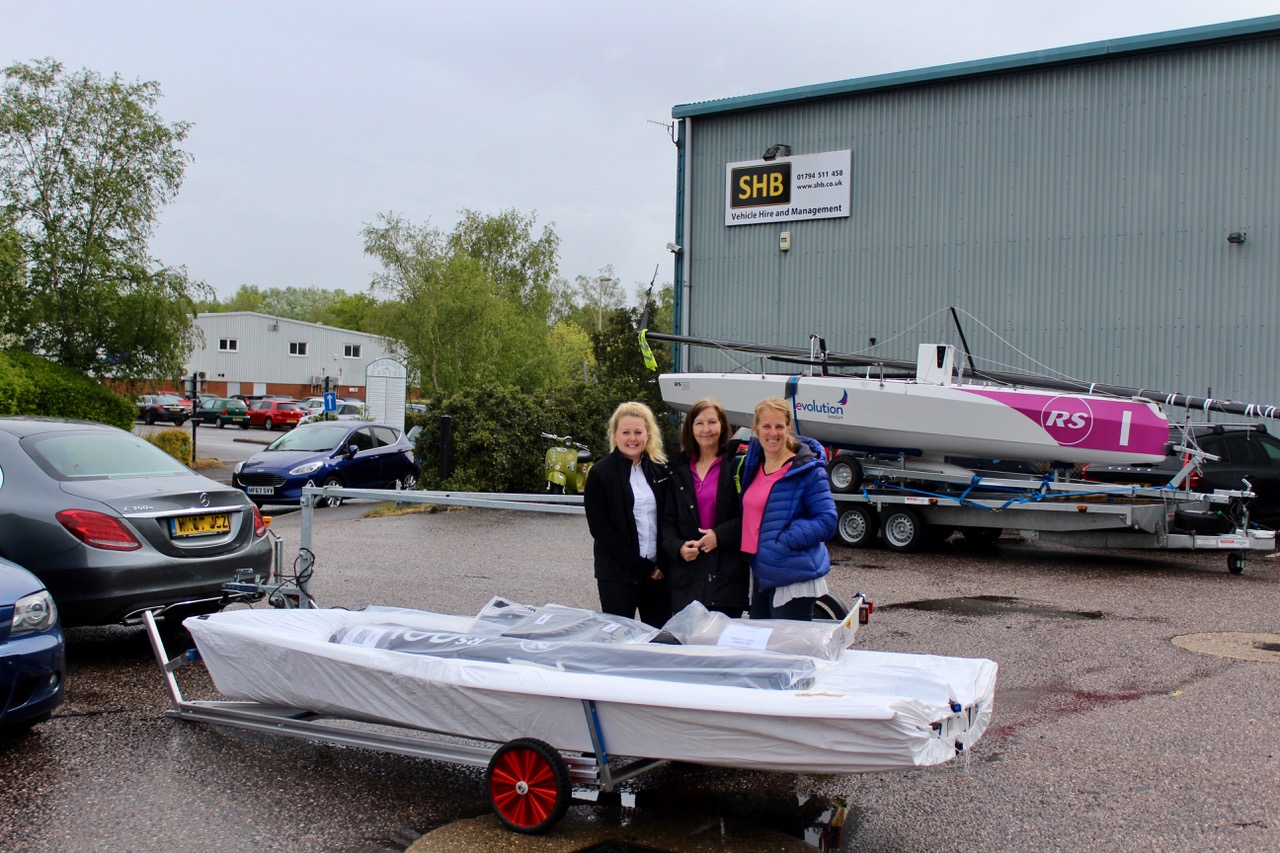 Left: Hybrid Car, double stacker trailer - sustainable effort made!
Right: Unveiling the new RS Aero...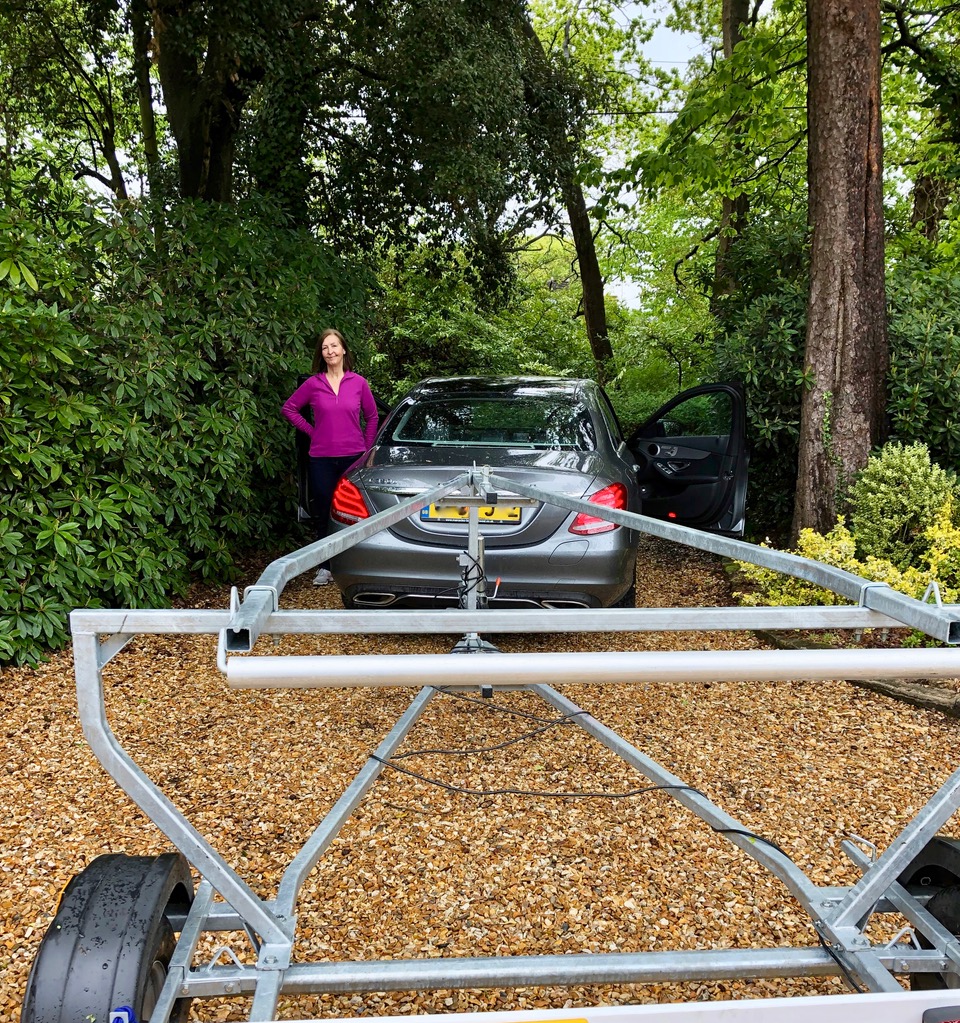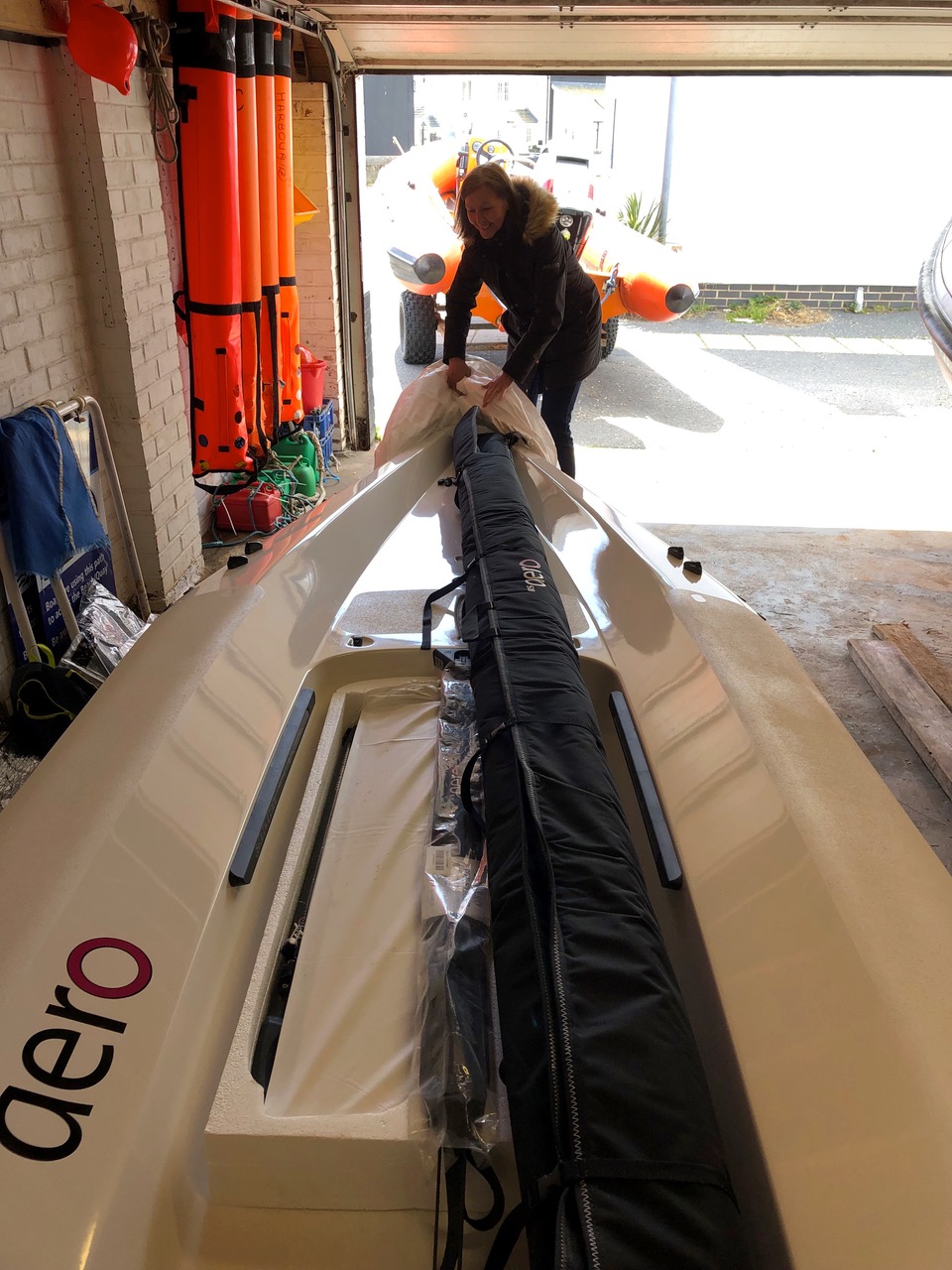 Half way through the 65 page challenge at record pace!