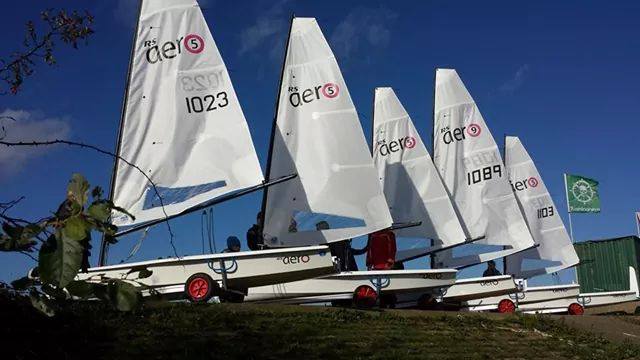 RS Aero UK Class Winter Training 2016/17
14/10/2016 15:57:03
RS Aero UK Class Winter Training Series 2016/17What
All inclusive Top Level Coaching across the whole range from Youths and Aero newbies right through to those preparing for next year's World Championships in France.
Who
Whilst focused on Youths - all are welcome!
Under 22s, Parents of sailors, local sailors and RS Aero sailors generally...
Coaches
We have signed up key top quality coaches to bring on our Youths and progress the UK class as a whole.
SHAUN PRIESTLEY - World Class International Coach
Shaun has delivered International clinics at SailLaser on Lake Garda, assisted International clients to the top level and provided Paralympic Pathway coaching. Shaun will lead the weekends at Oxford in November, Hayling in December and Draycote in March.
HANNAH SNELLGROVE - 3 times Laser Radial UK National Champion
Having signed up, Hannah jumped in an RS Aero recently out at Lymington and with nine boats out she gave us all a good beating! We look forward to her top tips on how to sail a single hander fast and smart at Alton Water in January and Oxford in February.
CHLOE MARTIN - Laser Radial Europeans Bronze Medalist
Chloe raced an RS Aero at Lymington's UK Southern Champs this summer and blitzed the RS Aero 7 fleet with her skills refined from the Radial class. Chloe will lead the Lymington weekend in April, providing an insight into how to sail an RS Aero fast downwind through waves.
PETER BARTON - RS Aero UK (9) and USA (7) National Champion
Peter will assist onshore and sail at several of the weekends including both the first two at Oxford and Hayling. For specific RS Aero knowledge and experience few people have spent more hours racing the RS Aero.
PAUL ROBSON
Paul delivered last year's Winter Training and his involvement and dedication will continue to be an asset with this seasons program.
BEN ROLFE -
RS Aero 9 European Champs, Germany, runner up.
Ben
will be on hand representing RS Sailing to provide charter boats, support and coaching assistance.
The Schedule
Six weekend events at top UK sailing inland and sea venues;
19/20 Nov - Oxford SC
3/4 Dec - Hayling Island SC - with the RS Teras
28/29 Jan - Alton Water SC
18/19 Feb - Oxford SC - incorporating the RS Aero UK Winter Champs at the Oxford Blue*
18/19 Mar - Draycote WSC - with the RS Teras
8/9 Apr - Lymington Town SC
*Saturday 18th Feb is the Oxford Blue SailJuice Winter event, incorporating the RS Aero Winter Champs. Coaches will be on the water on Saturday watching the racing and assisting sailors before, after and in between races. We will then put together a good agenda to work through on the Sunday!
Enter
online via the
UK Event Page
for the series or via the individual event page for an individual event.
Training fee
Discounted at £385 for the 12 days (includes assistance at the Oxford Blue) or £80 per weekend.
Charter RS Aeros
A limited number of Charter boats are available for the series thanks to the support of RS Sailing.
Book- these through Ben Rolfe (RS Sailing).
e:
[email protected]
t: 07814634892
Pay- via the
UK Event Page
for the series or the individual event pages for an individual event.
Discounted at £450 for the 6 weekends or £100 per weekend. Book early to avoid disappointment!
UK Class Winter Training
Contact Peter Atkin;
e:
[email protected]