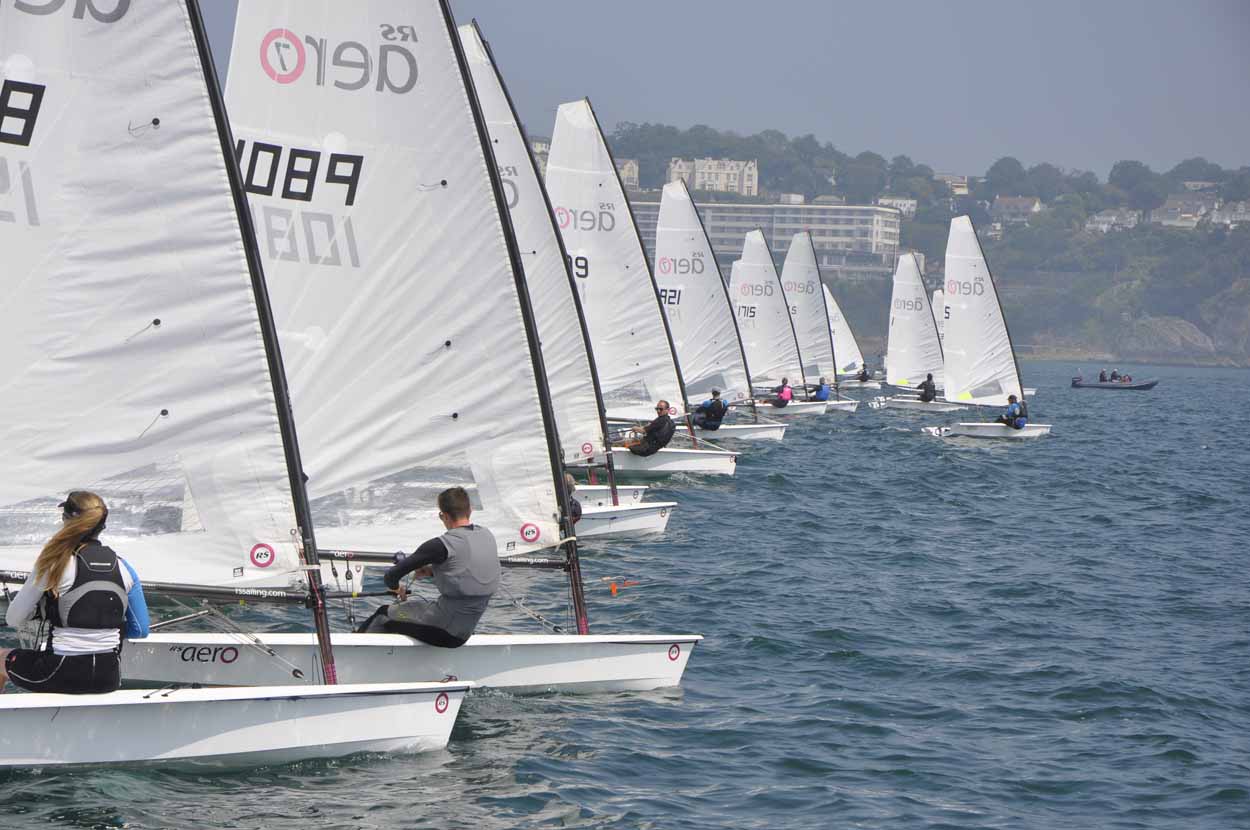 Magic Marine RS Aero UK National Championships 2016
04/06/2016 10:55:02
Magic Marine RS Aero UK National Championships 2016
Royal Torbay Yacht Club
2-5th June
Report by RS Aero Class Association
Photos by RTYC member, Jean Border.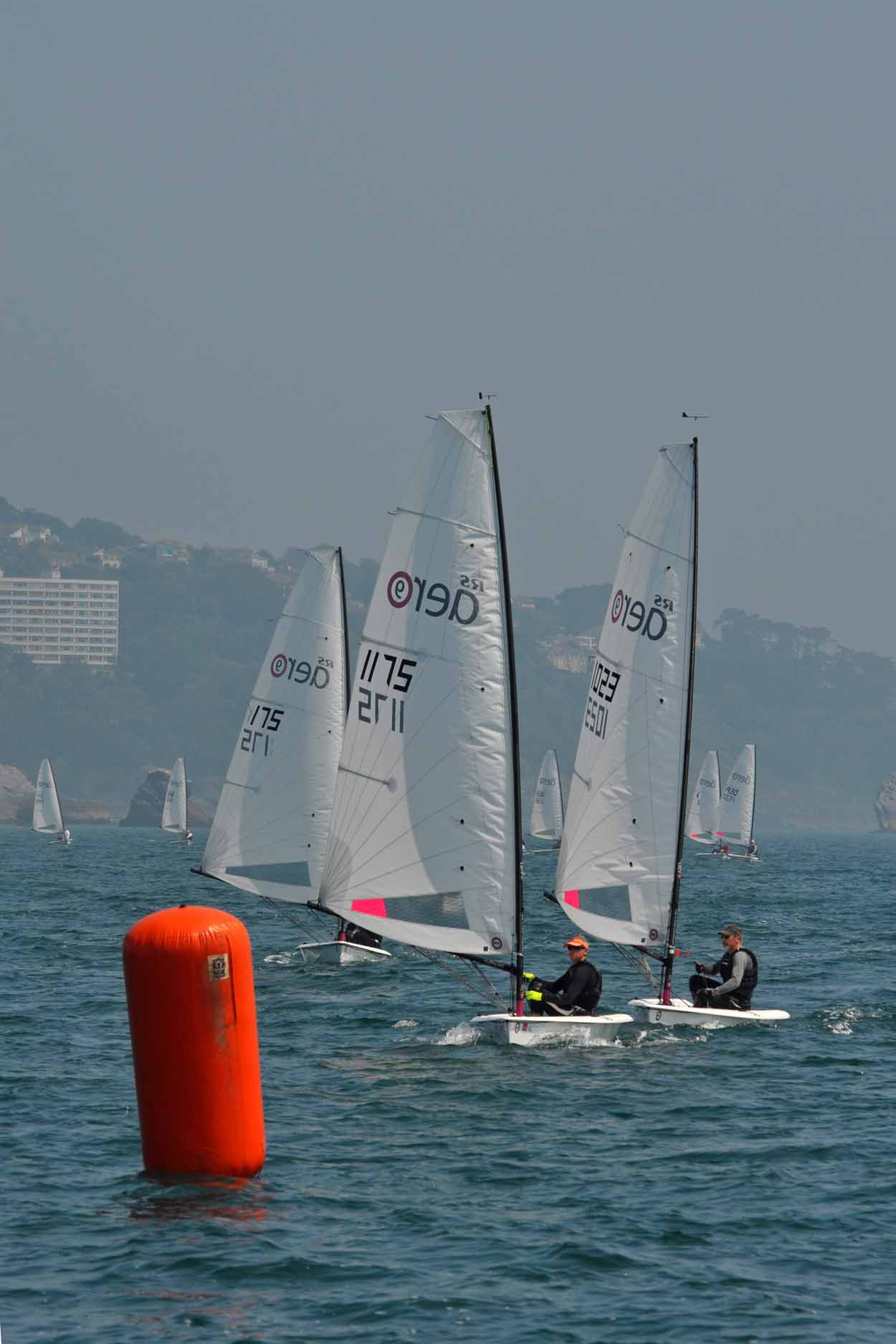 A full photo Gallery is online at
http://www.borderphotos2010.com
Prints are available via her website at a very reasonable price.
Captioned photos by Jean on this site
HERE
.
Royal Torbay Yacht Club played host to the 2016 RS Aero UK Nationals sponsored by Magic Marine with 70 entries set for a long weekend on the English Riviera. Competitors travelled from as far afield as France and Holland to compete on the Olympic racecourse of Torbay.
The Championship opened with a coaching with a comprehensive session ashore covering RS Aero specifics before moving onto technique and tuning for those looking for that final edge to take into their racing. Three short coached warm up races followed with about 40 boats revving up for the first formal race. The fleet finally peeled off to where the Race Officer was set to start the RS Aero Challenge Cup at 15:00.
The RS Aero Challenge Cup was an 'All Aero' PY race, outside the championship series. With just 1 race and only RS Aeros the Class was able to implement an exciting initiative of varying PYs for wind strengths, to reduce any disadvantage at the end of the wind bandings without tipping the balance from the favoured. Three sets of PY numbers were specified for light, medium and strong winds. The race officer recorded an average of 6kn on the committee boat in the run up to the start and the light wind set of PYs were selected, going some way assist the disadvantaged smaller sailed RS Aero 5s.
A fleet of nearly 50 boats jostled for position on the start line. During the race the RS Aero 9s had the pace in the light with Gareth Griffiths taking line honours but the 7 rig of Peter Barton kept close enough to the lead bubble of 9s to take the PY win followed by Gareth Griffiths and Nigel Rolfe in their 9s. The PY varying was successful as a deliberate 'part measure' to make an improvement with the results suggesting the number changes could have been greater still.
The evening's Opening Ceremony had speeches by the Vice Commodore and daily prize giving to award the Challenge Cup prizes and special awards. Class Social Coordinator, Ben Rolfe, instigated his master plan of venues in town to meet after dinner at the Yacht Club and was happy to lead by example on to the night clubs of Torquay for those with energy to spare…
Day 1 of the Champs proper had fantastic racing with a steady but light easterly breeze producing some waves. This punctuated by a little tide gain to the left and periodic clicks in direction to the right provided an interesting challenge making it difficult for any one sailor to dominate the day. Each fleet enjoyed 4 races over a triangle-sausage course with a range of leaders.
Kate Sargent of the Netherlands came away from Day 1 with a small lead over Archie Hainsworth in the 5s. David Ellis won 3 races but had only a small lead over Harvey Martin with three 2nds in the 7s. Peter Barton led the 9s with Paul Bartlett and Anthony York also winning races.
Day 2 had a postponement and whilst the fleet basked in the beautiful Devonshire sunshine Kate Sargent, technical designer for Magic Marine, gave her talk on the design benefits within the Magic Marine range. There followed an impromptu 'Top Tips' session from the lead sailors of Day 1 giving away all their prized secrets of how they thought they had made it to the front of their races. At 14:30 racing was sensibly canned for the day leaving the fleet time to enjoy the local delights of the area or catch up on sleep.
Saturday night the fleet smartened up for the Class Dinner in the Royal Torbay YC for the Annual Awards Ceremony and daily prizes. To a big screen presentation the most coveted awards were eagerly anticipated. Top Photo went to Dovey SC's shot staring Chelmarsh's 'Three Amigos' enjoying their 9 rigs on the ocean in picturesque Dovey last month. Top Video went to Harriet Critchley's creation, depicting the apprehension and enjoyment of her first sail on a breezy day with the 5 rig sail at Bolton. Harriet's inspiring video, with blue skies and fluffy clouds over the Lancashire fells can be viewed
HERE
. Paul Robson was awarded for 'Endeavours to Class' for his commitment to coaching the five winter series weekends.
Day 3 brought more optimism with more heat and the fleet launched promptly. Once the wind stabilised racing got underway and with up to 10kn of wind kickers were taught and downhauls were even starting to come on. This time a trapezium course was set and the tight top reach even saw a little planning and surfing with small waves coming in with the easterly.
The wind slowly died with one race completed. Antony York's win in the 9s brought him up to 2nd overall behind Peter Barton overall who had kept consistent with a 2nd. Archie Hainsworth's race win gave him the lead over Kate Sargent who was stuck in 4th in the 5s. David Ellis did just enough with a 4th in the 7s to take the title, whilst Fergus Barnham moved up to 2nd overall with his second race win of the series.
The coveted Club Champs title for the combined results of any club's top 3 went to Lymington Town SC with a 1st, 1st and anchor man, Liam Willis, kicked the ball into the net with his 6th in the 9s, Starcross YC's emerging RS Aero fleet were 2nd. Nine families qualified for the Family category requiring two family members. Team Gribbin, Claire and Luke of Paignton SC, pulled it off with a 4th and 5th from the Tardrews and Bartletts.
Magic Marine's awesome support provided a fantastic array of great prizes. RS Sailing donated three beautiful half boat perpetual trophies for the three fleet's annual Championships and were on hand, as ever, with their usual legendary event support. Also many thanks to the Freeland family of Downs SC, for donating a whopping great Youth Trophy Cup after Toby Freeland was the first winner in 2015.
Thanks to the ever so friendly and professional team at Royal Torbay YC for a most memorable and enjoyable Champs with the comfort of their lovely club house. The Class looks forward to returning again soon.
The next biggie on the RS Aero World calendar is the USA Atlantic Coast Championship at Newport, Rhode Island 8-10th July followed soon after by the first RS Aero European Championships at Travemunde Woche, Germany, 25-29th July. The RS Aero Worldwide calendar can be found here;
http://www.rsaerosailing.org/index.asp?p=events
Keep in touch with Everything Aero via the Class website and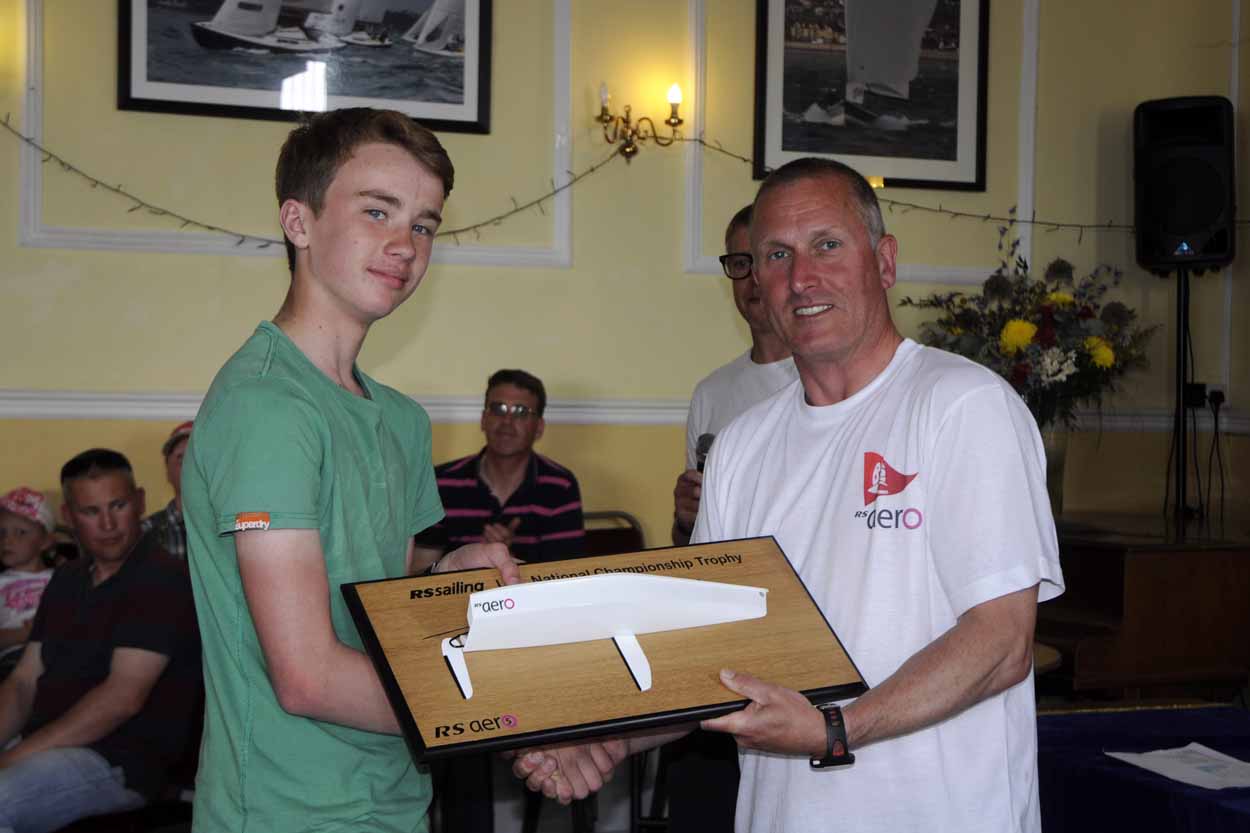 Prize Winners
RS Aero 5
1st - Archie Hainsworth, Alton Water
2nd - Kate Sargent, HOLLAND
3rd - George Tardrew, Hayling Island
4th - Claire Gribbin, Paignton
5th - Luke Gribbin, Paignton
RS Aero 7
1st - David Ellis, Lymington Town
2nd - Fergus Barnham, Snettisham Beach
3rd - Harvey Martin, Ogston
4th - Barend Hiltermann, HOLLAND
5th - Will Taylor, Brightlingsea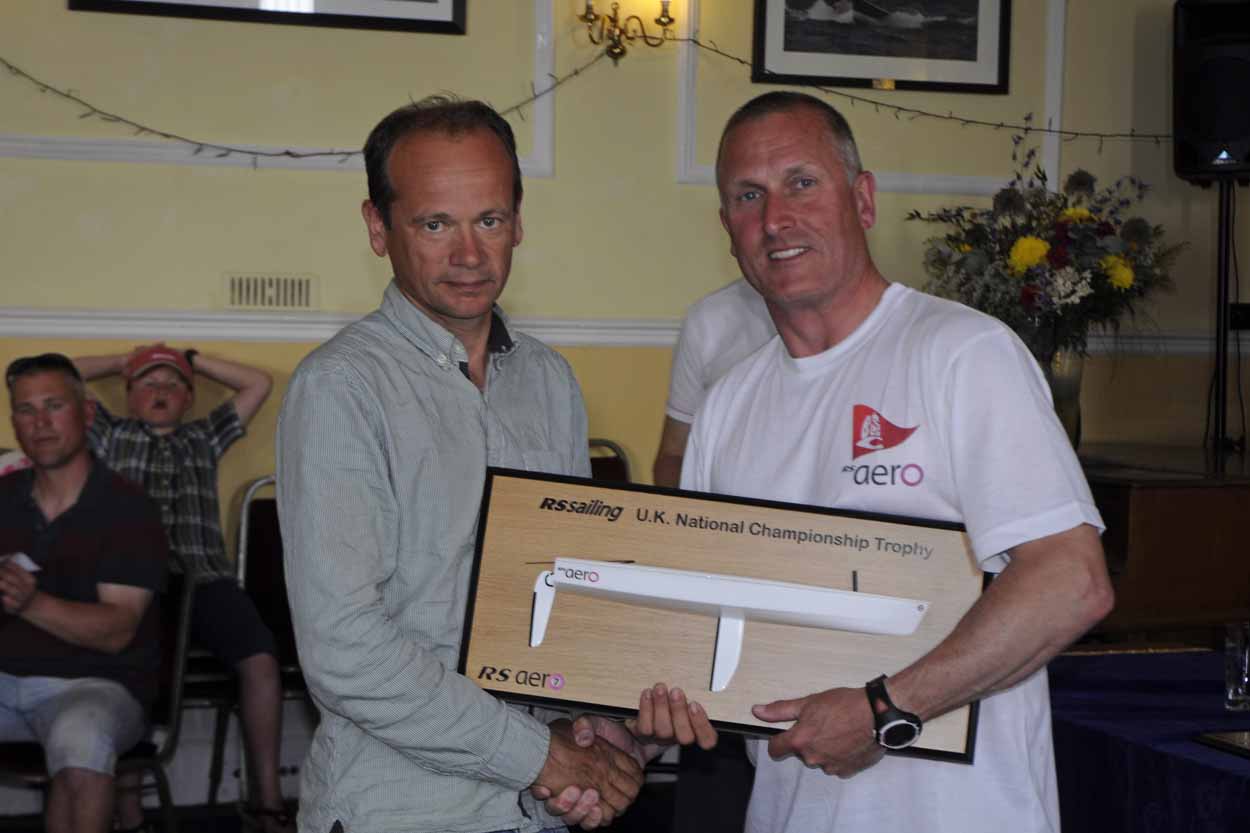 RS Aero 9
1st - Peter Barton,Lymington Town
2nd - Antony York, Northampton
3rd - Paul Bartlett, Starcross
4th - Chris Larr, Northampton
5th - Gareth Griffiths, Island Barn
The RS Aero Challenge Cup 'All Aero' PY Race
(outside the Nationals series)
1st - Peter Barton, Lymington Town (7)
2nd - Gareth Griffiths, Island Barn (9)
3rd - Nigel Rolfe, Burghfield (9)
4th - Ben Flower, Babbacombe Corinthian (9)
5th - Peter Chaplin, Burghfield (9)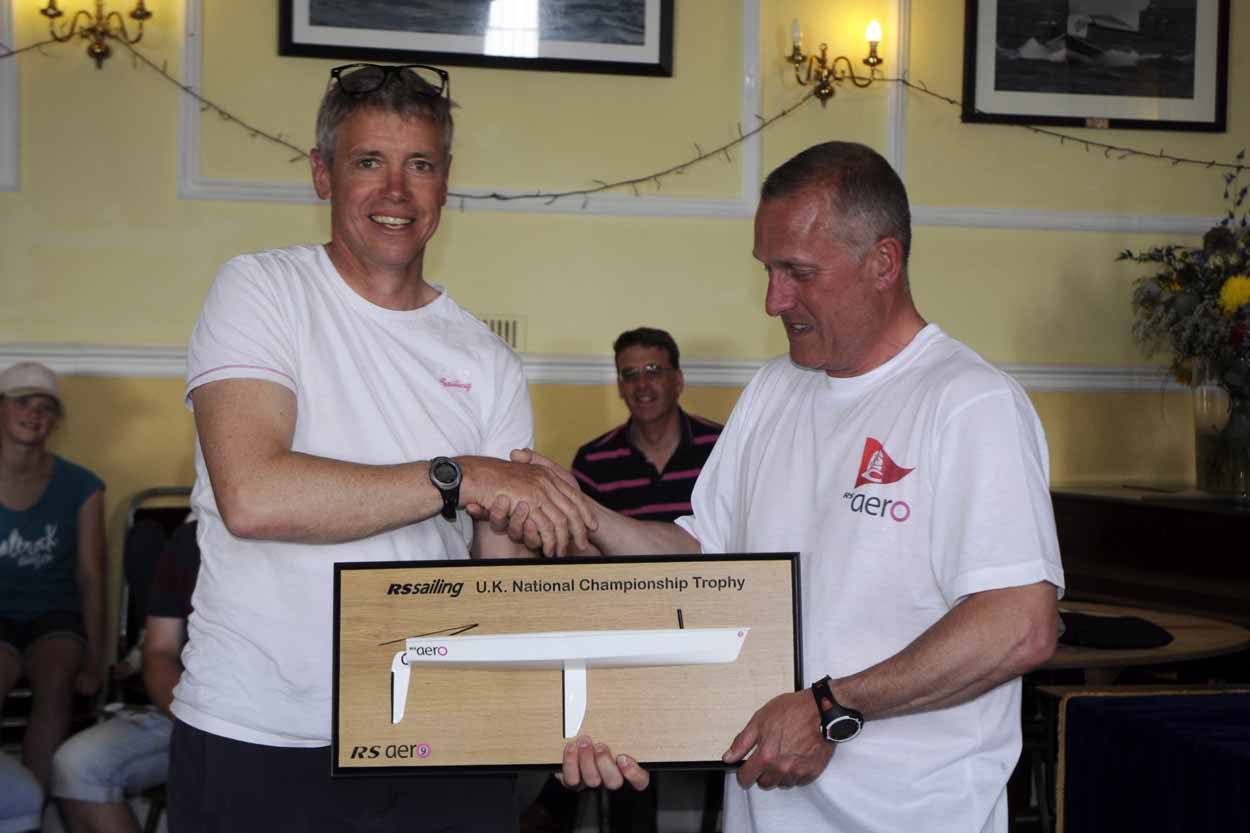 Junior - Under 15 (not 15 this year)
1st - Anne-Marie Ratnage, Bough Beach (5)
2nd - Henry Gillett, Royal Harwich (5)
3rd - Lauren Paton, Royal Torbay (5)
Youth - Under 19 (not 19 this year)
1st - Archie Hainsworth, Alton Water (1st/5s)
2nd - Harvey Martin, Ogston (3rd/7s)
3rd - George Tardrew, Hayling Island (3rd/5s)
Lady -
1st - Kate Sargent, HOLLAND (1st/5s)
2nd - Claire Gribbin, Paignton (4th/5s)
3rd - Jane Peckham, Gurnard (6th/7s)
Master - 55 or over this year
1st - Paul Bartlett, Starcross (3rd/9s)
2nd - Gareth Griffiths, Island Barn (5th/9s)
Family Fortunes -
Best 2 family members overall
We have a whopping 9 family teams;
1st - Claire & Luke Gribbin, Paignton, 9pts
2nd - George & Lucy Tardrew, Halyling Island, 12pts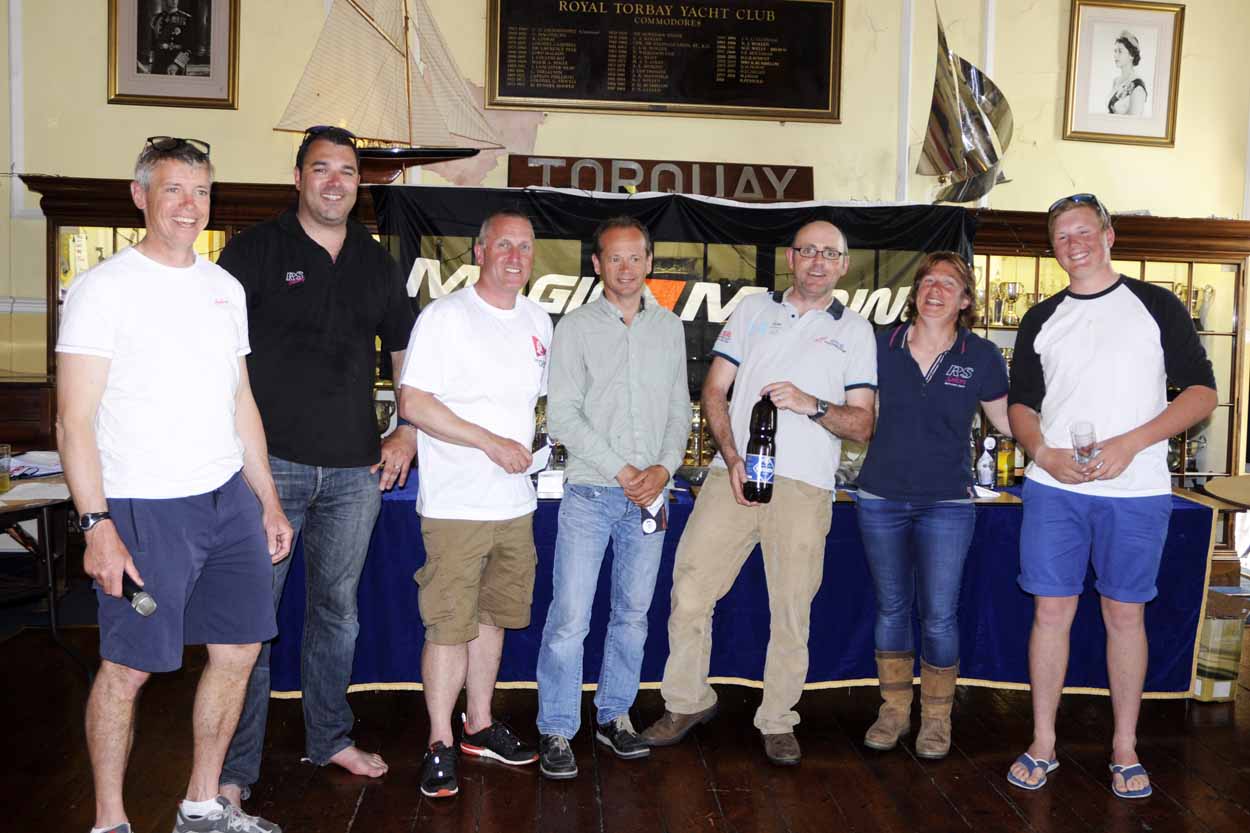 3rd - Paul & Greg Bartlett, Starcross, 14pts
4th - Fergus & Finlay Barnham, Snettisham Beach, 16pts
5th - Will & Mike Taylor, Brightlingsea, 18pts
Club Champs - Best 3 club results overall;
1st - Lymington Town SC (1st, 1st & 6th = 8pts)
2nd - Starcross YC (3rd, 11th, 12th = 26pts)
3rd - Hayling Island SC (3rd, 9th & 18th = 30pts)
Endurance -
finishing all races
RS Aero 5 - Lucy Tardrew, Hayling Island
RS Aero 7 - Jonathan Rickels, Grafham
RS Aero 9 - Chris Jones, Chelmarsh
Furthest Travelled -
Barend Hillterman, HOLLAND (via Germany to collect boats!)
Outstanding Services to the RS Aero Class
Paul Robson - For coaching the Winter Training weekends
Outstanding Services to RS Aero Events
Richard Willows - stepped in as PRO at his home 'Roadford Rocket' event which meant missing sailing but loaned his RS Aero.
For full Results go to;
Yachts and Yachting report here;