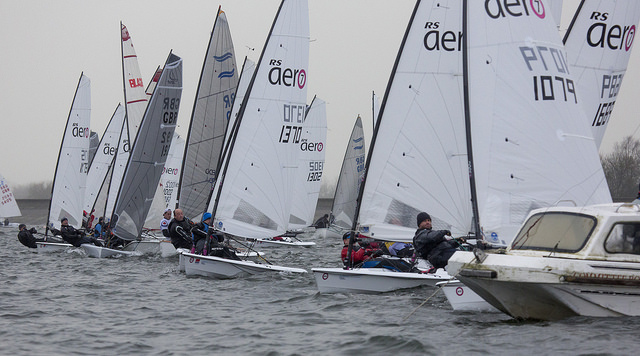 RS AERO UK WINTER SERIES 2015/16 - Results after 5 events
27/01/2016 15:26:25
Competition hotting up at the halfway stage
by RS Aero UK Class Association
The RS Aeros are now 5 events into their 9 event UK Winter Series and competition is steadily building for this years title.
The Series spans from Yorkshire to Devon and is part made up of some of the ever popular GJW SailJuice Winter Series. Later in the series there are more events outside SailJuice including two in the Southwest, the Starcross Steamer and the Roadford Rocket. At the Starcross Steamer recently the RS Aeros were one of the largest classes on the start line with 10 boats racing. At this weekend's Steve Nicholson Trophy at Northampton the RS Aeros have the largest (combined) class with 15 entered in advance!
The series is so far scored as the best two results to count. Matt Thursfield (Chelmarsh) has been overtaken for the overall lead by Peter Barton (Lymington) after he finishing both first RS Aero and first overall at Starcross. Whilst little can be taken in terms of performance evidence with the fickle wind and increasing tide, that result certainly verifies the RS Aero 9's potential in the lighter wind ranges.
Top Youth and Lady so far is Caitlin Atkin (Alton Water) in her RS Aero 5 whilst Gareth Griffiths (Island Barn) is set to pounce on the Maters title with a 1st place in the bag from the Bloody Mary.
Best traveller so far is Andrew Snell (Salisbury) who has competed in every event. He is steadily putting together a strong series, as is Richard Watsham (Starcross). Both will be rewarded when the third counter is required later in the series as they each hold a deuce of 2nds.
The largest turnout so far in this series for the RS Aeros is the Winter Championships that formed was part of the Oxford Blue, with 22 RS Aeros on the water. That event and/or the series finale, the RS Aero Spring Championships at Grafham on 19/20th March, must be counted. This will serve to keep the series all to play for with racers able to shave points off any results from Oxford at Grafham.