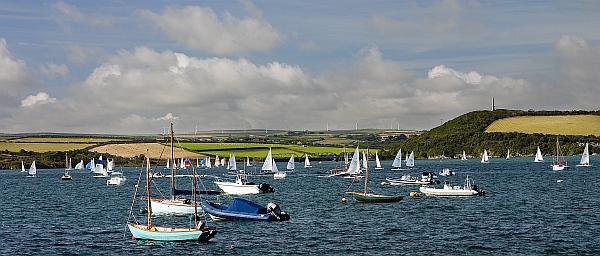 CAMEL WEEK at ROCK, CORNWALL
14/09/2015 22:18:47
CAMEL WEEK at ROCK, CORNWALL in August
"like a Whippet teasing a German Shepard"

Congratulations to Glen Truswell for winning from a whopping fleet of 71 at this summer classic with a whole host of top sailors and classes represented. From his secret Cornish training base he emerged to also win our RS Aero 7 UK National title!


Glen gives his insight into racing an RS Aero 7 in such a mixed fleet over a long and varied series;
"The RS Aero proved to be the perfect companion for a summer regatta like Camel week due to its convenience, light weight, explosive sprint performance and unparalleled manoeuvrability.
You wouldn't necessarily think it but being the slowest boat in the fast fleet was also good as even limited time in the boat allows you to win the start easily against larger, heavier to handle and harder to manoeuvre opposition. Clean lanes to windward were a prerequisite then, whilst the RS Aeros pointing ability and lack of leeway reinforced this position.
Given the relatively short courses and the boats high speed planing ability I generally found it took several laps before the Merlins, Fireballs, and RS400's overhauled me, on occasion they never did! Such disgraceful behaviour doesn't necessarily win you friends in the pasty shop at lunch time but it you want to feel like a whippet teasing a German Shepard - it's all good!
Great interest was exhibited by other competitors and several confessed to their intention to sell up and make the switch in the close season.
By the end of the week I found myself winning the week (and half the races) on handicap. Mike Lyons was second in the Blaze and David Wade third in the Mirror.
I feel the RS Aero 7 rating is good but not unreasonable moving forwards. There will always be comment about rating systems but when results back nicely in to class racing performance Nationally people have little argument to make."
http://www.rsaerosailing.org/index.asp?p=results&rid=3175