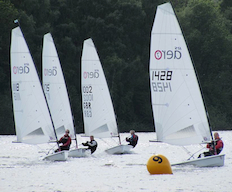 Sailing At Chelmarsh Gets £10,000 'Wow Factor' Boost
10/08/2015 02:53:21
MASSIVE CONGRATULATIONS to Robert Fisk-Moore and Chelmarsh Sailing Club who have put in a gigantic amount of effort to secure this grant to allow others at Chelmarsh the ability to experience RS Aero sailing.

The grant being awarded to provide exciting racing/fun boats to keep people in sailing, rather than just training boats to bring newcomers into sailing, is somewhat ground breaking - well done to Robert for his vision and hard work!

The fleet at Chelmarsh has gone from strength to strength and these two new boats, due for collection this week, will bring their total to 15 making Chelmarsh the largest Inland RS Aero location in the World.
-----------------------------------------------------------------------------------------------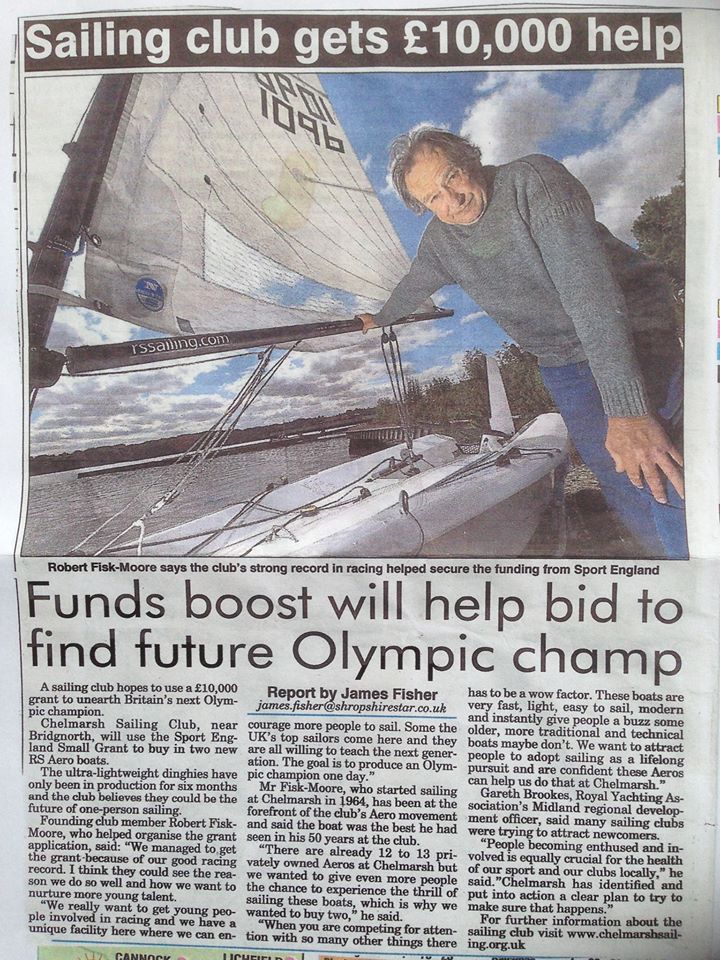 Sailing At Chelmarsh Gets £10,000 'Wow Factor' Boost
Shropshire club has invested in two RS Aeros thanks to the Sport England grant
Chelmarsh Sailing Club is helping to lead a small boat racing revolution after being awarded a £10,000 Sport England Small Grant to invest in two brand new cutting-edge RS Aero boats.
The ultra-light weight RS Aero dinghy has only been in production for six months (ed: now 13 months) but Chelmarsh has embraced the boat for what it sees as the future of one-person sailing and keeping people excited about racing, helping foster a lifelong love of the sport.
One of the biggest challenges every sport faces is converting newcomers, and early beginner enthusiasm, into sustained participation and club membership. Racing is a proven reason why people stay in sailing and the huge range of types of boats it is possible to sail means there is always something new to learn.
Chelmarsh believes the Aero offers something fresh and exhilarating to appeal particularly to young sailors and people who want to return to the sport after a break away.
Robert Fisk-Moore is the only founder member of Chelmarsh still sailing at the club where he started in 1964. He has been at the forefront of the club's Aero movement and explains why they were so keen to invest in the boats.
"This is a major development. In my 50 years at the club I don't think we've ever had a boat take off like the Aero. There are already 12-13 privately owned Aeros at Chelmarsh, but we wanted to give even more people the chance to experience the thrill of sailing these boats, which is why we wanted to buy two.
"When you are competing for people, and especially youngsters', attention with so many other things there has to be a 'WOW' factor. These boats are very fast, light, easy to sail, modern and instantly give people a buzz some older, more traditional and technical boats maybe don't. We want to attract people to adopt sailing as a lifelong pursuit and are confident these Aeros can help us do that."
Gareth Brookes, RYA Regional Development Officer for the Midlands, added: "We often hear about what sailing clubs are doing to attract newcomers to the sport, but keeping people enthused and involved is equally crucial for the health of our sport and our clubs locally. Chelmarsh has identified, and put into action, a clear plan to try to make sure that happens. The club is to be applauded for its proactivity and I look forward to seeing their efforts pay dividends."
Chelmarsh SC hosted the first round of the inaugural four-round RS Aero UK Series in May, while many of the club's Aero sailors will travel to the London 2012 Olympic sailing venue at the Weymouth and Portland National Sailing Academy for the first ever RS Aero UK National Championships from 29-31 August.
Chelmarsh SC is a recognised RYA Training Centre meaning it conforms to the highest standards of quality and safety. As well as multiple RYA learn to sail courses for adults and juniors, the club also runs RYA better sailing / improver opportunities including an introduction to racing as well as further class specific race training.