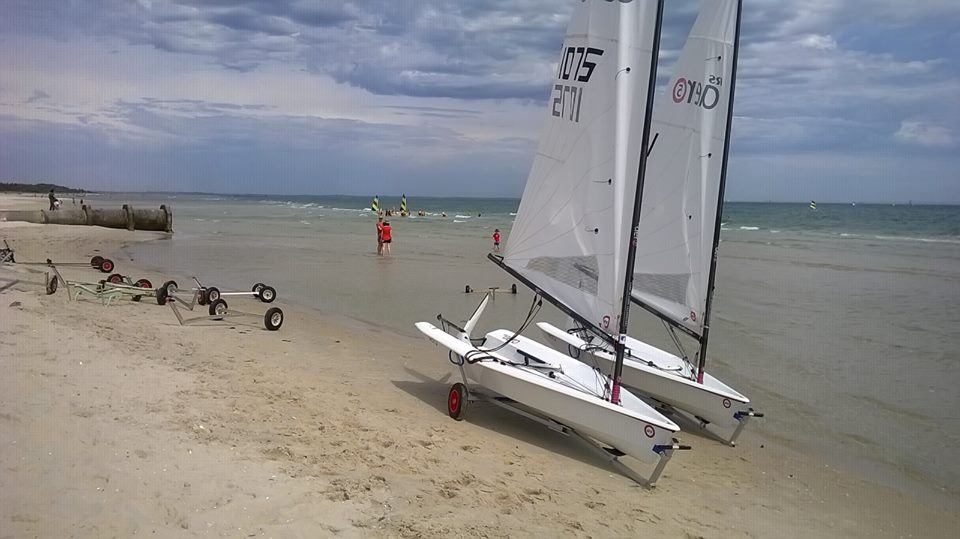 Australian Roundup - March 2015
04/03/2015 01:37:51
Australian Roundup - March 2015
by Sailing Raceboats, Australia
We welcome new agents representing South Australia and Western Australia;
Jo Mitton, based in Adelaide, has taken on the role of agent for
South Australia
. Jo has lots of experience having been the Sailing Coordinator at Adelaide Sailing Club and is the principal of M5 Marine Service.
Penny and Bill Stewart are based in Perth,
Western Austalia
, and run a charter business for rescue/coach boats. They have just taken delivery of three Aeros and a container is heading to Perth with more Aeros and a number of Fevas. Tom drove the three Aeros across to Border Village near the SA-WA border where they were picked up and taken to Perth. "It's a long way!" says Tom.
We are looking forward to heading over to Perth to assist with demonstrations and presentations in the near future.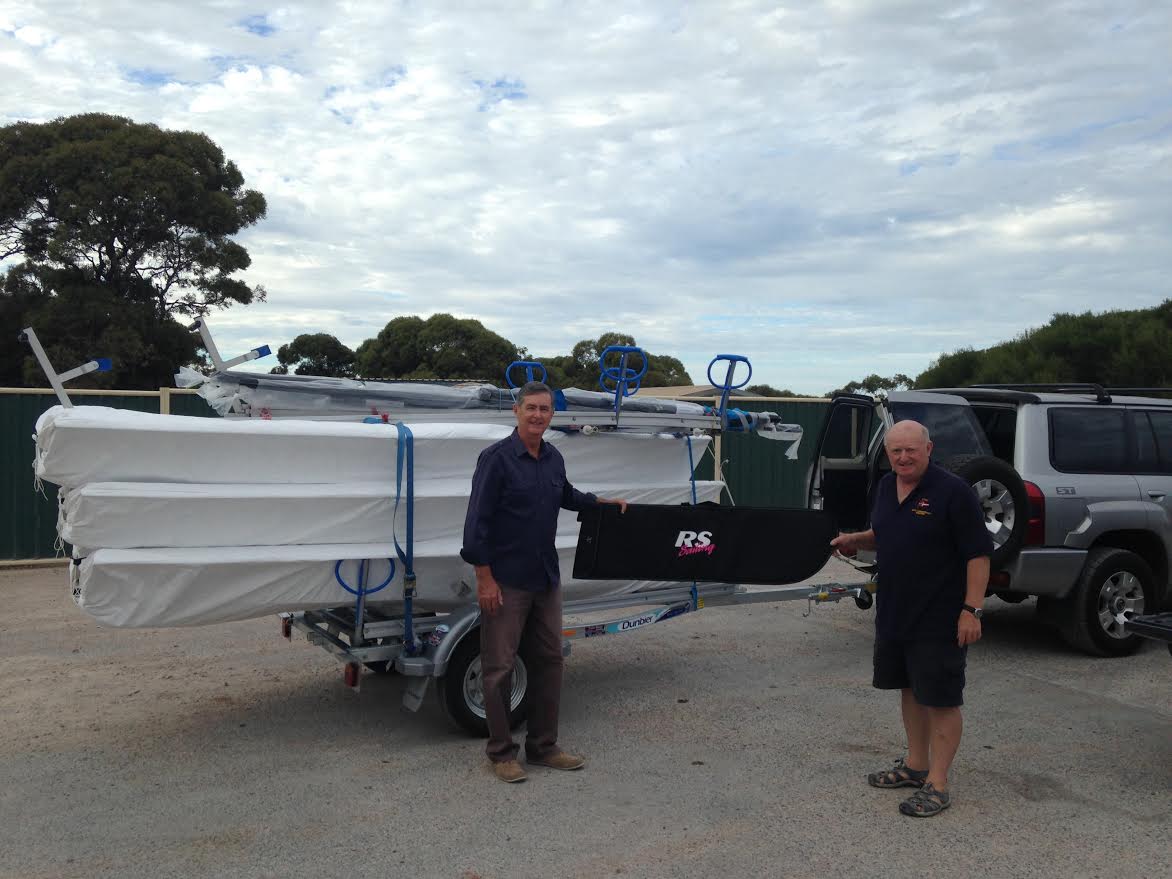 Tom Pearce (right) and Bill Stewart, WA Distributor, met at Border Village in SA which is located near the WA border.
Meanwhile Sailflite, run by Simon Overton, is keeping busy in
Queensland
with the sale of two Aeros. An Aero 7 is heading to Tin Can Bay, the other is destined for the Whitsundays and has a 9 and a 5 rig which will make it very vesatile. Simon came down to Melbourne to organise the bubble wrapping and palletising of the boats which are being delivered as freight with a transport company.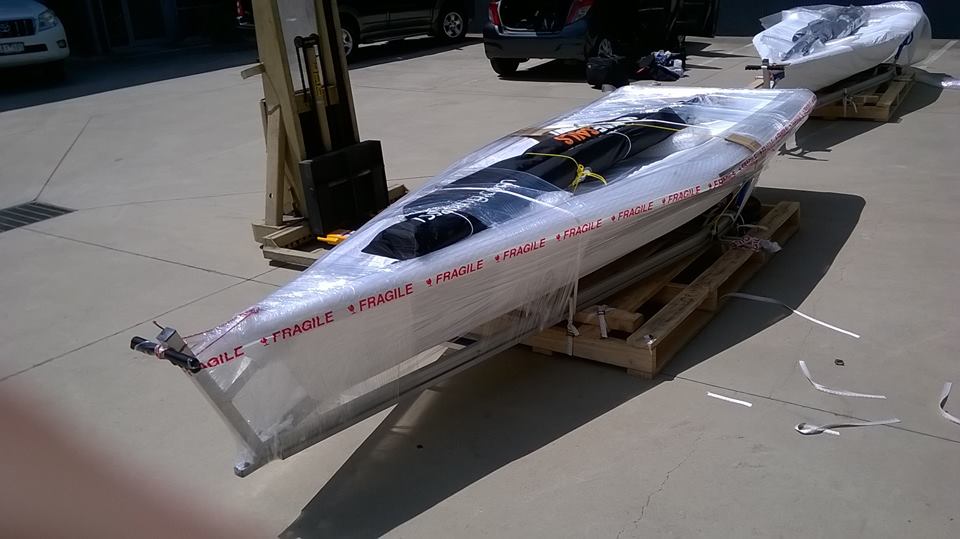 "What's the difference between an RS Aero and the Aero chocolate bar?
The RS Aero has the bubbles (wrap) on the outside".
Two boats on their way to Queensland.
Martin Wadhams, Chairman of RS Sailing, visited Melbourne recently and had a tour of the warehouse, met with several RS sailors and also had lunch at Royal Brighton Yacht Club. RBYC gave Martin and his wife Amanda an extensive tour of the club and facilities. There is a lot of enthusiasm around the hosting of the worlds in 2016 so we are hoping that the entries start flooding in.
Sailing Raceboats will be in attendance at the Adelaide Sailing Club on March 7th and 8th with demonstration Aeros and Fevas. The club has invited all interested sailors from ASC and other Adelaide clubs to come along and look at the boats and go sailing.
On the sailing front the Victorian State Championships are to be held at Sandringham Yacht Club on the long weekend, Sat March 7th to Monday 9th March.
RS Aero News
We took delivery of twenty boats in February and within ten days thirteen have been shipped out. Nine went to customers in various locations such as Geelong, Sydney, Tin Can Bay, Airlie Beach and three to local clubs. One boat is heading to Brisbane where it is being loaned for a Charity Sail to raise money for Student Care Welfare in Queensland. Read about it here
http://www.harperschallenge.com/manly-mooloolaba.html
and where it says "Laser" read "RS Aero".
Test sailing days have been held at McCrae, Black Rock and Sandringham with lots of positive feedback from sailors who have been out in both the 5 and 7 rig.
More boats are arriving in the near future, ten into Perth and another ten into Melbourne. If you are interested in an Australian test sail just send us an email at
[email protected]
.

Dates for your Calendar
The Black Rock Skiff Regatta, 18 and 19 April, incorporating the RS National Championships. RS100, RS200 and with any luck a small collection of RS Aeros. All of the information is here so please get your entries in.
http://www.bryc.yachting.org.au/assoc_page.cgi?client=0-9932-0-0-0&sID=304128&&news_task=DETAIL&articleID=33324275
RS Elite
RS Aero Test Rides -
The 5 and 7 resting between sails at McCrae YC, Port Phillip Bay