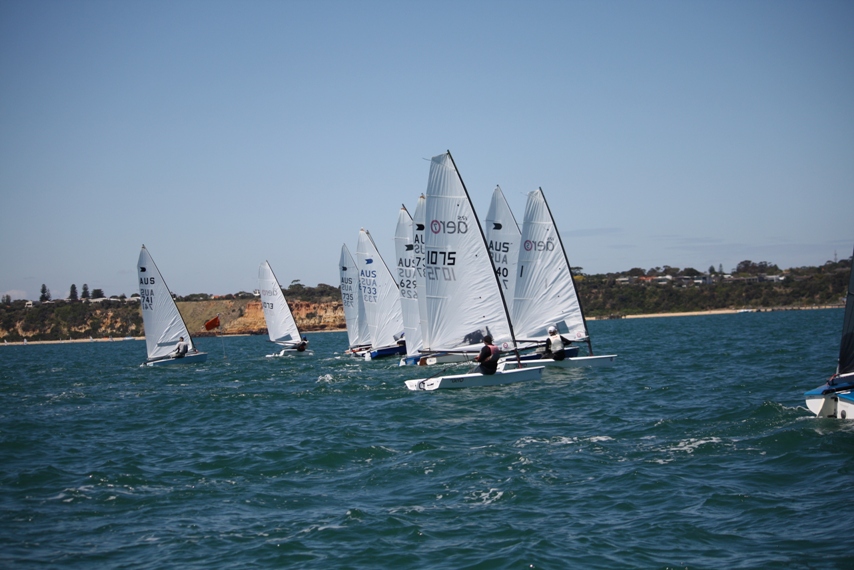 Australian RS Aero Christmas Championship
24/12/2014 00:54:39
It may have been a small friendly fleet of just 3 boats at this historic inaugural event but the news is that David Rickard did GBR proud by bringing home the first Aero Ashes contest (oh dear, what have I started!)
***STOP PRESS 27th Dec***
Doh! I thought I was pushing my luck claiming an Ashes win. I have just been informed by SailingRaceboats Australia;

'In a shock turn around of events, Australia has won the first Aero Ashes, with David Rickard admitting he was born and bred in Australia, and Tom Pearce totally incapable of hiding his accent, had to divulge his English heritage. The rule for the event is clear - nationality is deemed as that shown on the competitors birth certificate.'

I look forward to the next match, hopefully in AUS during their summer. 30 boats to a container anybody?
Full report by Sailing Raceboats, Australia;
Saturday 20th December saw the three Victorian demo Aero's assemble at Black Rock Yacht Club to join the racing. On a beautiful sunny day with a 12knot breeze, the three boats started with the fleet of 10 OK's who were in their final preparations for their World Championships. The competitors were James Grogan, (Aero 5) Tom Pearce, (Aero 7) and visiting expert from the UK David Rickard (Aero 7)
David instantly impressed reigning OK Australian champion Mark Jackson by winning the battle for the pin end start, but with a perfectly set line, the advantage was minimal and the first beat was closely fought with other OK sailing legends, notably club commodore Andre Blasse, and OK World champion Peter Milne. Tom and James were still getting used to the boats as it was their first time out, but soon were progressing through the fleet with ease. David finished second just seconds behind the Finn of Australian Pacer champion Phil Chadwick, with Tom 5th and James 7th.
Race two saw David jump straight into the lead which he extended to the finish, with James and Tom level pegging mid fleet. The Aero 5 with James weighing in at about 60kilo was well matched to Tom's more portly figure in the 7. At the end of the second beat Tom decided to inspect the lines of the hull from the underside leaving James to finish the race in style.
We all learned much about the boat, the most notable observation was how essential it is to keep it level, as any lazy sailing upwind was at the cost of major boat speed. David was the undoubted victor and probably won the two races overall on handicap, he was presented with an RS Australia Aero polo shirt for his efforts, James was second and first junior, and Tom had fun.
We hope to hold the first Australian Easter championship with more entries, as the main shipment of Aero's will have arrived by then.