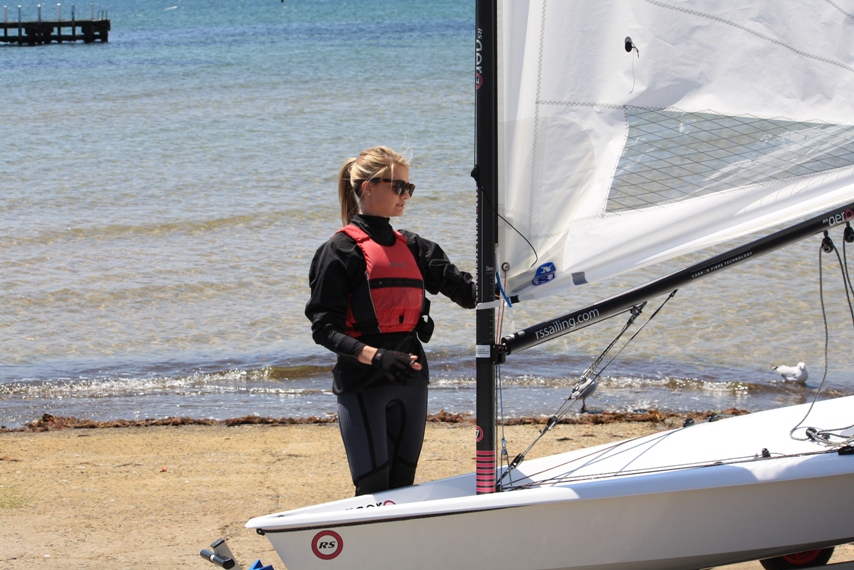 RS Aero sets sail in Australia!
02/12/2014 22:31:40
The container arrived last week on Thursday and Tom, of 'Sailing Raceboats' Australia, had assembled his regular band of helpers. There was a mix of boats but the star attraction were the four RS Aeros. They almost unloaded themselves being so light. Friday morning saw Richard and Tom rigging the Aeros. In a scene reminiscent of Top Gear, Richard played James May and used the excellent rigging manual while Tom, a la Clarkson, looked around for a bigger hammer.
Jessica Watson, who regularly sails an RS 200, was delighted to be given the opportunity of being the first to sail an RS Aero in Australia. It was a perfect day at Black Rock Yacht Club, Melbourne, with a 15 to 18 knot sea breeze. Jessica patiently waited while the Sailing Raceboats crew fiddled with the set up on the RS Aero 7 and then wisely checked it for herself! At less than 50kg she was obviously light for the 7 rig in those conditions but after nearly half an hour on the water she returned to the shore with the comment;
"what a fantastic boat. It was great fun off the breeze but a bit of a handful for me upwind. I need to work a bit on the sail trim as I am under 50kg and don't expect to get much heavier."
The Aero will be available for trial sails during the forthcoming ISAF Sail Melbourne regatta in December with details to be posted on the RS Sailing website soon. One of the boats is also already on its way to Sydney Harbour for trial sails there. Pre-orders have been coming in taking advantage of the special offer on pricing for orders placed before December 31st 2014. The first full delivery of 20 boats is on track for February 2015 with more again arriving by Easter.
The RS100 and RS200 also held the Victorian State Titles at the Go for Gold Regatta at Black Rock Yacht Club. Six races were held over two days in testing conditions. Top three placings were;
RS100
1 Tom Le Grice
2 David Clancy
3 Peter Lyons
RS200
1 Peter Milne/Lara Blasse
2 Gary/Jill McLennan
3 Tom Pearce/Kayla Fabris
The RS Aero was on display during the regatta and all of the junior prize winners received an Aero chocolate bar, courtesy of Sailing Raceboats!
Another first was that the very first RS Elite was delivered into Sydney last week. Also delivered with the Aeros were RS Visions, Fevas and an LDC 2000.
It's all going on in Australia!
***This is not the first time that Jessica has sailed into the record books. In 2010 she became the youngest person to sail around the planet at 16. So she is well versed at being a little overpowered occasionally! Check out her Cape Horn video here.