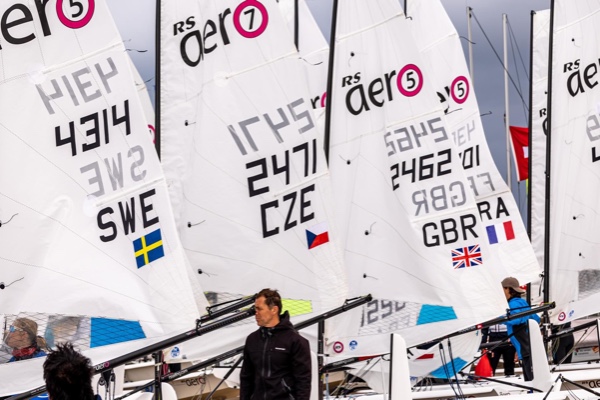 RS Aero European Championship - PREVIEW
31/07/2022 23:05:00
RS Aero European Championship
Weymouth & Portland National Sailing Academy, UK
1-5th August
PREVIEW
As the second week of the 2022 RS Aero Games kicks off it is the turn for the adults to join the Youths for the 4th RS Aero European Championship.
130 competitors are representing 13 countries. A large British home contingent is joined by a good fleet form Germany with many European nations represented together with the furthest travellers joining the European fleet are from China, Australia and Uruguay.
Sammy Isaacs-Johnson gave a pre-event coaching seminar ashore, especially popular with the many new or isolated RS Aero sailors, to get some Top Tips on how to make an RS Aero sail fast. Sammy believes that the qualities that will be necessary to make an RS Aero European Champion this week are persistence, commitment and a little bit luck!
The RS Aero 5 fleet is drenched in talent and the title too hard to call. Past world champions Andrew Frost (GBR) and Sophie Jackson (AUS) head to polls. It is great to have Andrias Sillaste (EST) re-joining the fleet following a break after his World Champs Bronze at Carnac in 2017. 2012 Olympic Gold medallist Lily Xu (CHN) is loving her RS Aero sailing and looks forward to stepping back onto a competitive racecourse. Podium sailors from the RS Aero Youth Worlds Tom Ahlheid (GBR), Sam Blaker (GBR) and top female youth Abby Hire (GBR) look forward to taking on the adults. Watch out for Tom's younger brother Tristan Ahlheid (GBR) who clinched 4thin the massive RS Feva Worlds last week. Emma McEwen has already claimed her first RS Games win in the RS21s together with an RS800 podium and Chloe George was runner up at the recent RS Aero UK Nationals.
The RS Aero 6 Class joins the other RS Aero Classes for its first international regatta. With good late availability of the new rigs the fleet has swelled to over 20 entries. The RS Aero 6 is popular with the German fleet and the entry is nicely international with GER, NED, EST and GBR represented. The form book is yet to be written in the new rig which is proving really popular with those that have sailed id it. Who will be our first RS Aero 6 European Champion?
The RS Aero 7s is the largest fleet with over 60 entries. Again the form guide is hard to call. Last week's Youth Words Champion Vejas Strelciunas (LTU)returns to compete for his second title, Tim Hire, Craig Williamson and Ben Whaley have all podiumed at large UK Nationals. Noah Rees has already led UK and World championships this year - it must be his turn soon to win a big one! Joining the RS Aero fleet for the fist time, it will be interesting to see where Jon Emmett fits into the pecking order. For an outside bet consider speedster supremo Gregory Bartlett (GBR) returning to the Class after a break, if you can get good odds.
The RS Aero 9s love the power and exhilaration of their big rigs. Past European Champion Richard Watsham (GBR) would love to reclaim his trophy whilst UK Champion Peter Barton (GBR) steps up to his first RS Aero 9 Europeans. UK Nationals runner up Chris Larr (GBR) will be gunning to jump to the top step
Racing is set to take place on a mix of both Weymouth Bay and Portland Harbour with the testing variety of both waves and flat water. The forecast looks mixed, which will then also provide opportunities throughout the fleet. Bring it on!
THANKS
to all the supporters of the RS Games;
RS Sailing
,
Rooster
,
Seldén Mast
,
Harken
,
Noble Marine
,
Kingfisher Yacht Ropes
,
LifeJacket Skin Protection
,
Spinlock
, Fernhurst Books,
HYDE SAILS
,
MarkSetBot
,
Digital Sailing
and
Allen Sailing
.
PHOTOS
will be added to
www.digitalsailing.co.uk
each day by Digital Sailing with 50% Discount code 'RSGAMES' until 20th August.
FINAL RESULTS & REPORT