The Green Blue and the RS Aero UK Class
06/03/2017 00:55:38
THE GREEN BLUE CONGRATULATES RS AERO UK CLASS AS IT COMMITS TO BECOMING A GREEN FLEET
The Green Blue is delighted to support the RS Aero UK Class as it unveils its new
Sustainability Charter
at the RYA Suzuki Dinghy Show 2017, becoming the first Class Association to commit to developing an environmentally sustainable fleet.
The Charter is the result of several months of discussions between the RS Aero UK Class and The Green Blue to identify a number of ways in which the class association can promote sustainable sailing.
UK Class Chairman, Nigel Rolfe, said: "The RS Aero UK Class identified an opportunity to become the first ever 'environmentally sustainable' fleet in the UK working in partnership with The Green Blue. We've drawn up our charter that sets out how our members can help and how we can encourage our events to minimise any impact on the environment."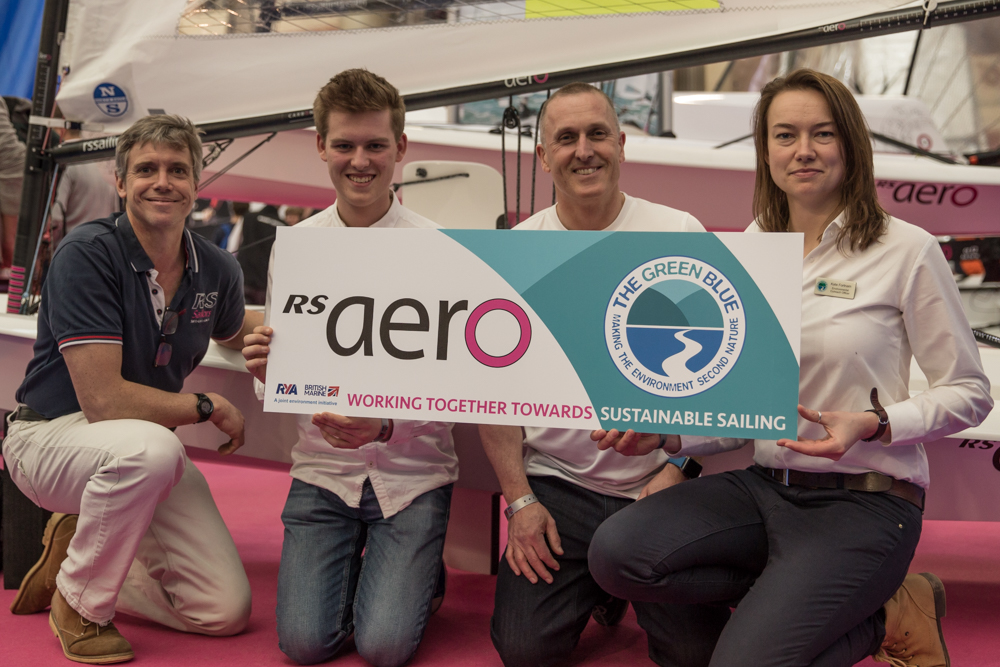 Putting the Charter into Practice
The Charter covers such areas as recycling of waste at events, using reusable water bottles and promoting lift share. RS Aero UK Class will also be encouraging the clubs they use and visit to improve their environmental footprint by identifying opportunities particularly around water, waste and energy efficiency.
One of the more publicised areas over the years is the prevention of the introduction and spread of invasive non-native species including the Killer Shrimp and Quagga Mussel; and a key action for members and clubs will be to follow the 'Check Clean Dry' approach when moving between venues and events.
Next Steps
To get the activities underway, RS Aero UK Class will be hosting the first annual RS Aero Sustainability Trophy, donated by The Green Blue, on Saturday, 1 April at Burghfield Sailing Club near Reading. At the same time, The Green Blue will be supporting the club to identify and support the implementation of environmental improvements around its site.
The Green Blue Project Manager Jane Swan commented: "We are delighted to be working with the RS Aero UK Class and welcome their commitment and energy in encouraging their members and clubs to take a proactive approach to looking after the environment around them. The class associations provide a great platform for this type of initiative and we congratulate the RS Aero UK Class for being the first and for their proactive and firm commitment."
Speaking on the RS Aero UK Class stand at the RYA Suzuki Dinghy Show, Charlie Pearce, Sustainability Officer for the RS Aero UK Class, added: "We're very proud to have launched our Sustainability Charter and to be the first class to get involved in this way with The Green Blue. We all want to minimalise our impact on the environment so I hope all clubs will get involved and we will see more classes coming on board in the future."