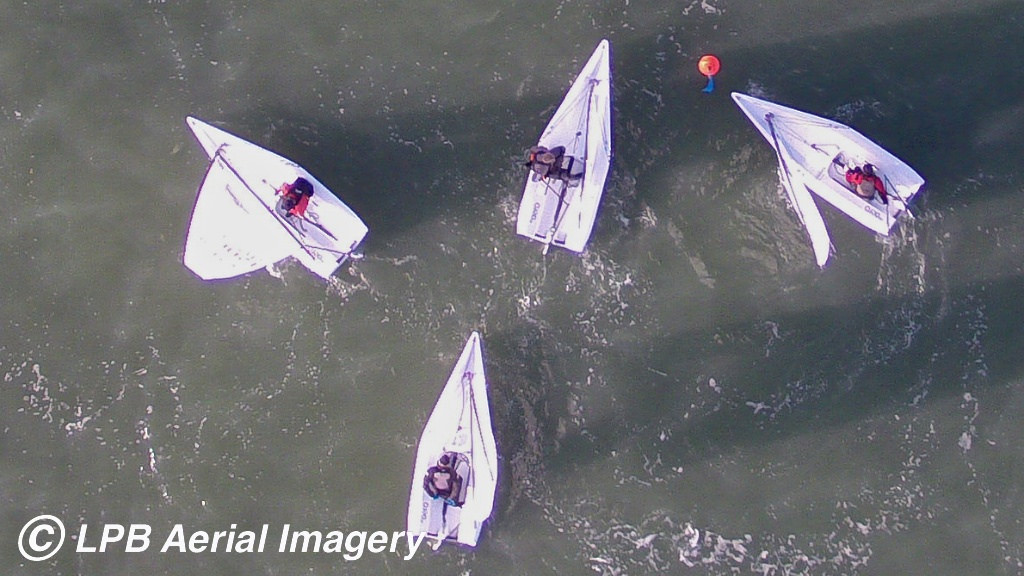 AERO AERIALS - JOUSTING!
24/01/2015 01:19:40
Match Race and Fleet Race

with an umpire eye in the sky
The RS Aero Class were pleased to be involved in a project to investigate the viability of drones assisting in the umpiring of match races. The drone provided live video straight to a screen on an umpire boat.
We had enourmous fun Match Racing the Aeros that day. Being so light they were quick to accelerate and easy to manoeuvre in the medium breeze. The rudder can lock right out to such an extreme angle that, at low speeds and with some technique, it is possible to spin the boat almost on the spot!
Two hours of hectic 'jousting' proved perfect boat handling training for the Winter Champs the following day, although a bit exhausting!
The pictures in the gallery give a nice snapshot of various tactical and rule scenarios. However to get the whole picture you really need to see a video or at least a sequence of pictures.
Thanks to LPB Aerial Imagery for the awesome 'birds eye' gallery from the 2nd January. You can view the full Aerial gallery
here
.
Wind: 12kn, gusting 17kn.
Thanks to all taking part;
Umpires; John Doer, Roger Wilson, Jamie Sheldon
Race Officers; Nick Hopwood, Gary Stones
Imagery; Jon and Bev Johns of LPB Aerial Imagery
Sailors; Myles Mence, Peter Barton, Simon White, Jim Hood
the Facilities of Lymington Town Sailing Club
and the Assistance of RS Sailing