Lymington Christmas Stadium Racing, Hampshire, UK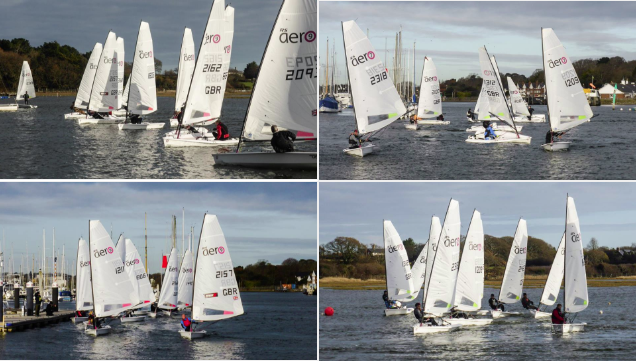 Lymington Christmas Stadium Racing - Saturday 8th December, 10:30
Keith Willis will kindly PRO our festive short course racing again at the top of the river f
ollowing the success of our previous editions. Entry is open and visitors are welcome.
At the top of the tide, in the quiet season after the moorings are clear of lead luggers and river traffic is minimal, a good area is available for racing in the confines of the river - and fun spectator sport for those ashore too! A
tight course will be laid at the top of the river, likely opposite the pontoons and the club! Perfect for practicing your close quarters racing and manoeuvres whilst keeping warm with a busy tempo!
The racing will be Class racing, in flights of up to 12 with quick fire short sprint style races. Excellent starting practice with up to 8 races over 2 hours!
Bring all your rigs so there is flexibility to choose on the day, depending on fleet spread and conditions.
Qualifier
rounds
and a grand final may be held as necessary.
Check out the report and video from the
February 2017 Edition
by LW Media and the report for last year's
Christmas 2017 Edition
when we had
a great turnout of 22 RS Aeros split equally between RS Aero 9s and 7s, enjoying close nip and tuck racing.
Entry: Please register via the pink box above, so we know numbers.
Briefing:
10:30, launch straight afterwards
Fee: Lymington Clubs free, Visitors £10 (LTSC day rate)
Pitstop: Mulled wine and Mince Pies from the pontoon again? - TBA.
Christmas Lunch: in the club following racing. Yum. Attire: Christmas Jumpers
Please book Christmas Lunch in advance
HERE
Select 'Book tickets for social events' -> Login /Register -> select 'social bookings' -> click green box for RS Aero Christmas lunch.
Choose one of the top two options (either 2 or 3 courses) and then confirm your menu choices in the list below and pay. Simple! ;-)
Spectators:
Cheering from the pontoon! Bring your warm hat!
Partners and Pare

n

ts
:
Lymington High Street has a bustling market to explore on Saturday mornings with lots of festive cheer.
Sunday 9th December: visitors welcome to join the 10:30 club race (day fee applies)
[*This does clash with Youth Training at Chew effecting a few sailors sorry, but we are limited to high tides. There will other opportunities!]
Photos by Richard Russell
Lymington Town SC
Bath House, Bath Road, Lymington, Hampshire. SO41 3SE
Contact:
Tel: 01590 674514
Email:
[email protected]
Website:
http://ltsc.co.uk/
Directions to the club can be found on:
Accommodation list with B&Bs can be found on:
The local camp site is Solent View 1m away

Club Telephone: 01590 674514